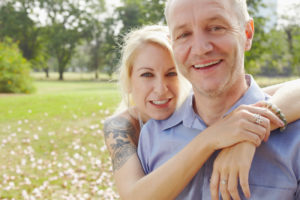 It's (almost) a new year, and that means it's time for some life upgrades. Many people vow to read more or to start going to the gym before work — but in 2018, we encourage you to make a change that will actually last. A visit to your dentist in Wakefield can help you love your smile! Keep reading to find out about porcelain veneers, teeth whitening, and the other cosmetic dentistry options that are waiting for you in the new year.
Benefits of Cosmetic Dentistry
There are a number of benefits associated with cosmetic dentistry. When you love the way your smile looks, you are more likely to show it off — and the physical and psychological benefits of smiling are startling. Research shows flashing those pearly whites is a natural stress reducer, and it can also improve how others perceive you.
Additionally, we've noticed that people who are proud of their teeth are also usually more inclined to brush and floss regularly. And when oral hygiene improves, the risk of tooth decay and gum disease lower too. That's good news for your oral AND overall health.
So, would you like to reduce stress, be more likeable, and be healthier in 2018? If the answer is yes, then it's a great time to try out cosmetic dentistry!
You'll Love These Cosmetic Treatments
Some of the services that you may want to learn more about in 2018 include…
Porcelain veneers, which are thin, tooth-shaped coverings made out of dental porcelain. They are affixed to the front surface of the teeth that show when you smile, restoring or enhancing their size, shape, color, and overall appearance. Porcelain veneers in Wakefield are placed over the course of two dental visits and can last for a decade or more.

Professional teeth whitening can leave your smile up to eight shades brighter in a single visit to the dentist's office. Far more powerful than what you can buy over the counter, a professional treatment breaks through even the most stubborn stains and discoloration.

Invisalign clear braces gradually repositions your teeth using clear plastic aligners. Gone are the days of wearing metal brackets and wires to realign your bite — Invisalign in Wakefield straightens teeth practically invisibly.

All-ceramic restorations combine restorative and cosmetic dentistry to repair teeth in the front of the smile. If you have a damaged tooth but can't bear the thought of having it fixed with a metal crown or filling, find out how all-ceramic restorations can help.
What Are You Waiting For?
It's not yet January, but now is a perfect time to book your visit in the new year. Whether you're interested in veneers, Invisalign, or teeth whitening in Wakefield we know you'll love the results — and we can't wait to get started on your new smile!
Meet the Dentist
Dr. Rob Schumacher is an experienced general and cosmetic dentist with over 14 years of experience in the field. To learn more about his services or to schedule an appointment to get started on your cosmetic transformation, we invite you to contact the office today at 781-334-3400.