Professional Teeth Whitening in Wakefield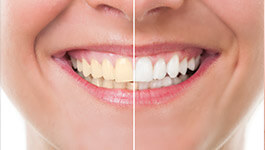 Are you nervous about smiling openly and with confidence because of embarrassing tooth stains? The fact is, staining is common because the things that cause it are also very common. In most cases, stains are caused by the foods and drinks we consume on a daily basis. Other causes of staining include tobacco use and aging. Some medications even contribute to staining.
If you're self-conscious about sharing your smile, you'll find the help you're looking for at our Wakefield dental office. We offer two popular forms of whitening: in-office and take-home whitening.
In-Office Whitening
In-office whitening is a single-visit solution for creating a whiter smile. Over the course of one visit, our Wakefield dental team improves the appearance of teeth from six to ten shades. When you leave, you'll have beautiful results you'll want to share with everyone around you.
Take-Home Whitening
Take-home whitening is an excellent alternative to in-office whitening. Using a set of custom-made trays and a supply of whitening gel, patients can expect to see results within one to two weeks when used as directed. Take-home whitening can also be paired with in-office whitening for results that are even more long-lasting.
If you have questions about whitening options or aren't sure which one is right for you, our helpful team would be happy to speak with you. Contact us today.
Teeth Whitening FAQs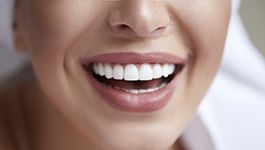 Are you considering getting your teeth professionally whitened but aren't sure whether it's worth the investment? Let us assure you that it definitely is! At Schumacher Dental, we don't want you to miss out on the opportunity to boost your confidence with this amazing treatment. To help you make your decision, we've decided to answer some of the most common questions we get asked about teeth whitening.
How Long Will My Results Last?
Depending on your oral habits following your treatment, your results can last from several months to up to a year! To extend the lifespan of your newly whitened smile, it helps to limit your consumption of stain-causing foods and beverages, or at least sip these drinks through a straw to minimize direct contact with your teeth. Also, keep up with your dental checkups and at-home oral hygiene, and avoid harmful habits like smoking or chewing tobacco. If you notice your results beginning to fade, be sure to ask us about touch-up treatments.
Is Professional Teeth Whitening Safe?
Many over-the-counter teeth whitening products are notorious for causing tooth sensitivity and irritating your gums, lips, tongue, or the insides of your cheeks. They can even erode your enamel, leaving you more susceptible to cavities. Rest assured that the products we use in our practice have been thoroughly tested and proven to be safe. Unlike many store-bought options, our products were designed with your comfort in mind. They shouldn't cause sensitivity or irritation to your soft tissues, keeping your mouth as healthy as can be.
What Are the Benefits of Professional Teeth Whitening Over Store-Bought Products?
The main reason to invest in professional teeth whitening is that your results will be much more dramatic. Here are just a few of the multitude of benefits you'll receive from choosing our treatment instead of over-the-counter whitening products:
The bleaching gel will stick to the teeth only, instead of migrating to the soft tissues in the mouth and causing damage.
Take-home whitening trays can be worn at any time of the day or night.
The strength of the bleaching gel can be specially formulated based on your level of sensitivity.
Your results will last significantly longer.
Am I a Good Candidate for Teeth Whitening?
Teeth whitening works best on natural enamel that has yellow or brown stains. It may not work as well on teeth with grayish discoloration. It's also worth noting that teeth whitening won't work on dental restorations such as veneers, crowns, and dental bonding. If you have any of these restorations, you may want to consider getting them replaced after whitening the rest of your teeth so that they don't stick out in your smile.