Replace Missing Teeth with Dental Implants in Wakefield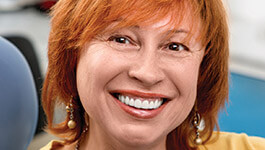 Patients who need to replace anything from a single tooth to a full row of teeth can achieve beautiful, natural-looking results with dental implants. But the benefits of dental implants don't stop with their appearance. This revolutionary restorative service mimics the natural crown-and-root structure of teeth. As a result, implant-supported restorations provide patients with greater stability than traditional prosthetics.
Imagine yourself smiling with a newfound sense of confidence and enjoying foods you previously couldn't with traditional dentures. Board certified prosthodontist, Dr. Schumacher, can help you do both with dental implants.
Implant Dentistry from Dr. Rob Schumacher
Many general dentists offering implant dentistry send patients to a specialist for the first phase of care. As a board certified prosthodontist with advanced training and expertise, Dr. Schumacher offers top of the line implant dentistry at his Wakefield dental office and can help you understand what treatment options are available.
During the first phase of treatment, one or more metal implant posts are surgically placed in the patient's mouth. A single implant stabilizes a single crown while multiple implants stabilize a partial or full denture.
Following surgery, your mouth needs time to heal. As it does, the jawbone and implant(s) form a natural bond in a process known as osseointegration. This bond between your implant(s) and jaw is what enables implant patients to enjoy such natural results.
Once the osseointegration process is complete, you'll return to our Wakefield dental office to have your custom-made prosthetic attached. This phase of care is known as the restoration phase. Once it's complete, you can look forward to enjoying a beautiful new smile for years to come.
Are Dental Implants Right for Me?
Any patient considering dental implants should schedule a consultation with Dr. Schumacher to learn more about the treatment process. Not every patient is a good candidate for implants, and an oral exam helps us understand if this service is the right solution for you. If it is, our Wakefield dental team begins working on a treatment plan immediately. If it's not, we explore alternative solutions with you during that same appointment. Regardless of the service we recommend, Dr. Schumacher uses his expertise as a prosthodontist to help you achieve functional and beautiful results.
Implant-Retained Dentures
Patients missing numerous teeth or a full arch of teeth have depended on removable partial and full dentures for years, but these solutions offer minimal restoration of dental function. Implant-retained dentures provide additional support for more natural appearance and function. Patients may choose either removable or fixed implant supported dental prosthetics, and with Dr. Schumacher's years of training and experience as a board certified prosthodontist, patients are certain to receive only the most comfortable, durable, and beautiful restoration.
Congenital Defects and Accidental Cases
Patients with congenitally missing teeth or who lose teeth due to trauma may also wish to consider implant supported tooth replacement. These replacement teeth most closely resemble natural dental structure replacing the roots and biting surfaces of teeth making implant supported replacement teeth the ideal solution for those who do not develop certain teeth naturally due to genetic flaws. Patients who experience facial trauma leading to tooth loss are typically good candidates for implant supported tooth replacement since they have not had to deal with diminished jawbone density following tooth loss.