Dental Implants — Wakefield, MA
Your One-Stop Shop for Permanent Tooth Replacement
Are you missing one tooth, several teeth, or all your teeth? No matter the extent of your tooth loss, you can a achieve beautiful, natural-looking, and strong smile with dental implants in Wakefield. This revolutionary restorative service mimics every structure of a missing tooth from root to crown. As a result, they provide patients with a new set of pearly whites that is virtually indistinguishable from the real thing. At Schumacher Dental, we're proud to be your one-stop shop for permanent tooth replacement! Get in touch with our board-certified prosthodontist Dr. Schumacher to learn more about rebuilding your smile with dental implants!
Why Choose Schumacher Dental For Dental Implants?
Board-Certified Prosthodontist with Extensive Training in Implant Dentistry
Permanently Replace Any Number of Missing Teeth
State-of-the-Art Practice with Advanced Dental Technology for Precise Treatment
What Are Dental Implants?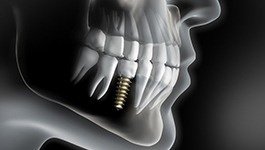 A single dental implant is a small cylinder, typically made of titanium, that gets placed beneath the gumline and into the jawbone in a minimally invasive surgery. During the recovery period that follows, something amazing happens; the bone actually fuses to the dental implant. This allows the dental implant to act as an incredibly strong replacement for the root of a missing tooth. While other tooth replacement options only replace the visible portion of missing teeth, rebuilding a missing tooth from the roots up provides unmatched stability, comfort, function, and aesthetics. One or more dental implants can be placed to support restorations for any number of missing teeth. Your custom-made crown, bridge, or denture will be carefully crafted out of durable and lifelike materials to ensure your new smile is as good as new!
The Dental Implant Process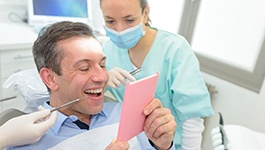 Many general dentists offering implant dentistry send patients to a specialist for the placement of dental implants since it's a minor surgical procedure. As a board-certified prosthodontist with advanced training and expertise, Dr. Schumacher offers top-of-the-line implant dentistry at his Wakefield dental office so you can save time and money while continuing to work with a dental team you already know and trust.
After your initial consultation and any necessary preliminary treatments, one or more implant posts will be surgically placed into your jawbone. Following surgery, your mouth needs time to heal. As it does, the jawbone and implant(s) form a natural bond in a process known as osseointegration. This bond between your implant(s) and jaw is what enables implant patients to enjoy such natural results.
Once the osseointegration process is complete, you'll return to our Wakefield dental office to have your custom-made prosthetic attached. This phase of care is known as the restoration phase. Once it's complete, you can look forward to enjoying a beautiful new smile for years to come.
Benefits of Dental Implants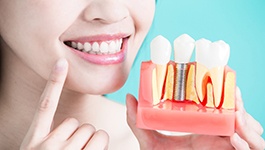 Dental implants are widely known for their durability, longevity and reliability. According to clinical studies, dental implants have been proven to carry an average success rate as high as 98 percent over a 10-year period. As long as you practice regular oral care and discontinue the use of all tobacco products, there are very few reasons why your implants would not last anywhere from 25 years to a lifetime.
Furthermore, no other tooth replacement option provides the same level of aesthetics as dental implants. By reestablishing blood flow, your face and your cheeks will not prematurely sag or appear hollow, which is a common side effect of tooth loss.
Because a titanium post is anchoring your tooth, there's no need to cut down existing tooth structure just so it can hold a restoration. By the time your implant has fully healed, it will feel as natural as the rest of your teeth, whether you're chewing, speaking, brushing, flossing or smiling for a group photo.
Who Dental Implants Can Help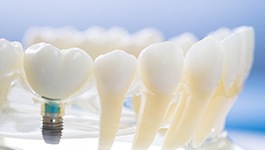 Now, all cases of tooth loss can be treated with dental implants if you are a candidate for the procedure. Depending on how many teeth you are missing, Dr. Schumacher will review all your tooth replacement options and help you pick the one that's right for you. While the decision is ultimately up to you, our team will partner with you every step of the way to ensure you've chosen the best treatment option for your oral health needs and goals.
Who Is a Good Candidate for Dental Implants?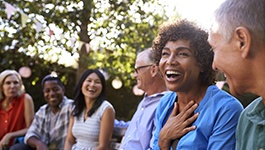 Any patient considering dental implants should schedule a consultation with Dr. Schumacher to learn more about the treatment process. Not every patient is a good candidate for implants, and an oral exam helps us understand if this service is the right solution for you. If it is, our Wakefield dental team will begin creating a custom treatment plan right away. If it's not, we will explore alternative solutions with you during that same appointment. Oftentimes, a preliminary treatment like bone grafting or gum disease therapy can help an initially ineligible patient become a good candidate for dental implants. Regardless of the service we recommend, Dr. Schumacher uses his expertise as a prosthodontist to help you achieve functional and beautiful results. He'll design your treatment around how many teeth you're missing:
Missing 1 Tooth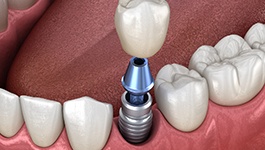 When a single tooth is missing, a biocompatible implant post is surgically placed into your jawbone. An abutment is attached to the post to connect a custom-made dental crown.
Missing Multiple Teeth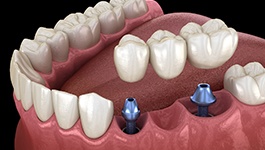 Replacing multiple teeth with dental implants is quite similar to traditional bridges. However, instead of shaving down two teeth so they can hold a bridge, two implants hold a restoration of three to four teeth at a time. The beauty of replacing teeth in this way is that you don't necessarily need the same number of implants to replace the same number of teeth.
If the missing teeth are spread out throughout your arch, we can place a strategically determined number of implants to secure a partial denture in place like a puzzle piece.
Missing All Teeth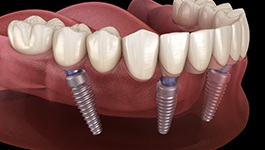 If traditional dentures have failed to give you the results you want, you can benefit from the security of dental implants. To replace an entire arch of missing teeth, we can place anywhere from four to eight dental implants to secure a complete, customized denture. You will not have to worry about any slipping as you do about your day or irritation in your gum tissue or jaws. Implant dentures offer a wide array of important advantages over their traditional counterparts, and we'll be happy to explain them to you fully during your consultation.
Oftentimes, if you are interested in getting dental implants after missing many teeth for a long time, a bone grafting procedure is needed beforehand to ensure you can support your new smile. However, for patients who aren't able or unwell to undergo a bone graft, mini-implants may be able to help! These smaller dental implants require less jawbone density while still providing reliable support for a full denture. We can discuss your candidacy for mini-implants during your consultation.
Understanding the Cost of Dental Implants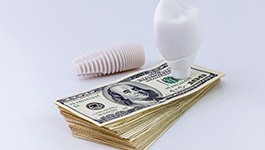 The dental implant process is completely customized to your unique needs, which is why there's not a single price tag on the procedure. The total cost of your dental implants in Wakefield will vary depending on several different factors, such as the number of implants being placed, the type of restoration you need, and any preparatory treatments necessary to make dental implants possible. Keep in mind that dental implants are a long-term solution for tooth loss, unlike all other replacement options. The upfront cost may be higher than that of dentures or dental bridges, but it's still cheaper in the long-term compared to regularly replacing these alternatives every several years.
A Priceless Investment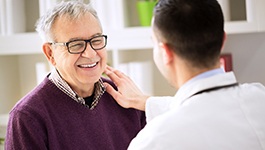 With so many unique benefits to offer, it's no surprise why patients and professionals agree that they're a life-changing and worthwhile investment. Not only do they last up to four times as long as traditional restorations, but they also provide you with added stability and strength, meaning fewer daily complications. That means that you'll be able to safe many in the long-run by not having to replace or repair them as often.
Does My Dental Insurance Cover Dental Implants?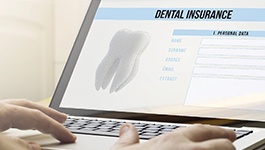 Unfortunately, dental insurance typically doesn't cover the cost of dental implants because it's still considered a "cosmetic" procedure. Because of this, many patients decide to pay for the procedure with cash, check, or credit card. Our team is dedicated to helping you maximize your benefits and savings, so we'll be more than happy to file any claims on your behalf in case your insurance will cover a portion of the cost.
Dental Implant Failure & Salvage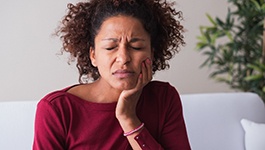 Even a decade following their placement, dental implants have an impressive success rate of about 95%! Of course, there's still a chance of dental implant failure. If your newly rebuilt smile ever feels loose or uncomfortable, let us know right away. Our team can restore your smile with effective dental implant salvage treatment.
Learn More About Dental Implant Failure and Salvage
Dental Implant FAQs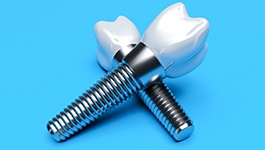 Would you like to learn more about dental implants in Wakefield before you commit to an initial consultation? For your convenience, we've answered some of the most common questions that we receive from our patients below.
Does Dental Implant Surgery Hurt?
At first, the thought of dental implant procedure may seem daunting. However, we want to ensure you that you have nothing to fear. Getting dental implants is actually quite a comfortable procedure! Before your implants are placed, you will be administered a local anesthetic or sedation to ensure that you are comfortable and your treatment is pain-free. Depending on the number of implants you need to have placed, your surgery could take as little as 30 minutes or as long as a few hours. When you visit us for your initial consultation, we'll discuss all of the details with you based on our examination of your mouth.
Do I Still Need Regular Dental Checkups If I Have Dental Implants?
Even though your artificial teeth can't get cavities, it's still vital to visit our office every six months for an examination and a cleaning. If you let harmful oral bacteria accumulate in your mouth, it can cause your gums to be infected, eventually resulting in implant failure if left unchecked. During your semi-annual visits, we'll make sure that any lingering issues get treated before they can cause permanent damage to your implants.
What Can Cause Dental Implant Failure?
There are several bad oral habits and factors that can impact the success of your implants. Some of them include:
Tobacco use
Insufficient jawbone density
Medical conditions that impact your immune system
Poor dental hygiene
If you're concerned about the success of your implants, don't hesitate to ask us any questions you have during your consultation. We'll walk you through the procedure and discuss whether you're a good candidate for this restorative solution. If you aren't we also offer traditional tooth replacement options such as dentures and bridges as well.