Dentures – Wakefield, MA
Completely Restore Your Smile
Losing many or all the teeth in your upper or lower jaw can be devastating. You won't be able to eat normally anymore, and it'll be much harder to smile with confidence. For these cases, Schumacher Dental can use different kinds of dentures in Wakefield that'll let you perform all the day-to-day tasks that you'd normally rely on your natural teeth for. Looking to restore your smile or the smile of a loved one? Contact us for an appointment today.
What are Dentures?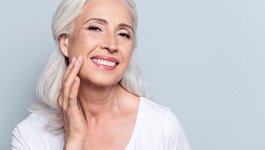 Dentures are also called "false teeth." They're probably one of the most well-known kinds of dental restorations; they're the solution for 90% of patients with tooth loss. In most cases, dentures will have a gum colored acrylic base that supports plastic or porcelain teeth. The base and the teeth can be customized so that they'll look as natural as possible in the patient's mouth. Metal can also be used to reinforce the structure of the dentures.
Depending on the number of healthy teeth left in the jaw, you may need to have a few extractions done before you can receive a set of dentures.
Your Options for Dentures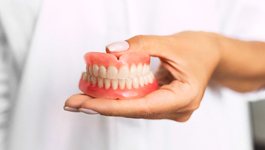 Are you missing all of your teeth or just a few? Can your jaw support dental implants, or will you need to rely on more traditional options? Depending on the answers to these questions, you could get a few different kinds of dental implants.
Partial Dentures
These are used when there are a few gaps in your mouth while you still have plenty of healthy teeth that are worth saving. Partial dentures can be customized depending on where tooth loss has taken place. In most cases, they're held in place by a metal clasp.
Full Dentures
The most traditional kind of false teeth, full dentures are used when an entire arch is gone. They rest directly on the gums and are held in place by natural suction; however, you can use a denture adhesive to give them added stability for speaking and chewing.
Implant-Retained Dentures
Full dentures can be supported by dental implants, which are metal posts that fuse with the jawbone. With implants, you'll no longer have to worry about your dentures slipping out of place. You'll also be able to enjoy almost any kind of food thanks to the chewing power that implants provide.
Benefits of Dentures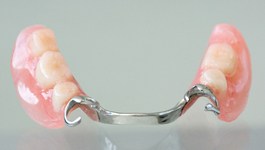 Cost of Dentures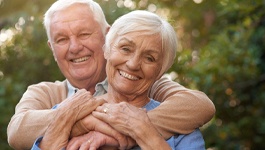 Every patients case is different and will incur different costs depending on the type of dentures used, the number of adjustments required, and the need for additional treatments (such as periodontal therapy to make sure the gums are healthy enough for implant-retained dentures). We're happy to work with you to make sure your new teeth are affordable; we'll also file a claim with your insurance provider to help you get the most out of your benefits.