Wakefield Preventive Dentistry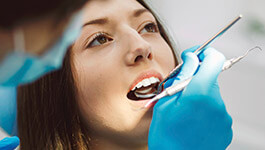 Good oral health begins with basic care at home and continues with the preventive services you'll find at Dr. Schumacher's dental office in Wakefield, MA. Preventive dentistry is an important focus for any practice because small problems have a major impact if they're not addressed. Our team is committed to diagnosing and treating all issues as soon as possible to preserve smiles' health, strength, and beauty.
Dental Checkups and Cleanings
Routine checkups and cleanings are essential not just for helping you keep your teeth clean but for diagnosing common oral health problems, like decay, periodontal disease, and TMJ dysfunction.
Pediatric Dentistry
In addition to serving adults in and around Wakefield, Dr. Schumacher is also proud to offer exceptional dentistry to the area's youngest smiles.
Dental Sealants
Dental sealants provide patients additional protection from decay creating a thin layer of plastic between bacteria and the chewing surfaces of teeth.
Oral Cancer Screenings
Our Wakefield dental office is proud to offer oral cancer screenings for every patient. Diagnosing and treating oral cancer as early as possible is essential to good health and wellbeing.
Sportsguards
Regardless of what sport you play, we believe every active patient benefits from wearing a custom mouthguard. Are you an athlete? Our team would be happy to create one for you.
Nightguards
If you unconsciously grind teeth, a condition known as bruxism, a nightguard helps prevent serious damage to teeth. Learn more about bruxism and TMJ treatment with nightguards.
Digital X-Rays
X-ray technology reveals aspects of oral health that can't be seen with the naked eye, and with digital X-rays, the results have never been clearer. Click here to learn more about our state-of-the-art approach.