Emergency Dentist in Wakefield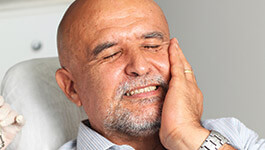 At Dr. Schumacher's dental office in Wakefield, we understand that no emergency is convenient. That's why we promise to be there for you in your most stressful dental moments. If you're in the middle of a dental emergency, please call our office to request an emergency visit. We do our best to see the most urgent cases the same day we're contacted. We also provide suggestions for managing your emergency until we can see you.
COMMON DENTAL EMERGENCIES
While dental emergencies cannot be planned for, patients should always take care to avoid emergencies. Never use teeth to open packages or crack nuts, don't chew on hard objects like ice, and always wear a protective mouthguard while participating in sports. We do our best to see patients right away during emergencies, but there are a few steps patients can take to protect oral health until they arrive at our office including:
KNOCKED OUT TOOTH
Rinse your tooth and try to replace it in the socket, and bite down on gauze to hold the tooth in place. If you're unable to do that, store the tooth in a bag or container of milk or water until Dr. Schumacher can see you. Bite down on gauze or a clean cloth in order to stop bleeding and protect the damaged tissue.
BROKEN OR FRACTURED TOOTH
Rinse with warm water immediately and apply a cold compress to the affected area to prevent or reduce swelling. Bite down on gauze to stop bleeding and protect surrounding teeth. Bring any large pieces of the tooth with you to your appointment.
LOST OR BROKEN TEMPORARY CROWN
Dry your natural tooth and reattach the temporary with a small dab of toothpaste or denture adhesive until Dr. Schumacher can professionally reattach your temporary in his office.
SEVERE TOOTHACHE
Rinse your mouth and try flossing around the tooth before calling us. If pain persists, contact us for an appointment. This is especially important if the toothache is accompanied by infection in the gums around the tooth or sensitivity to changes in temperature. Infected soft tissue may be a sign of abscess, and temperature sensitivity may indicate the necessity for root canal therapy.
ADDITIONAL FIRST AID & PAIN MANAGEMENT TIPS
During an emergency, the first step is to remain calm and call our office. Next, patients should carefully clean any damaged areas by rinsing with water. Never use mouthwash or toothpaste to clean damaged teeth or gums as this can be painful. If there is bleeding, apply gentle pressure and/or a cool compress to slow the flow of blood. If we are unable to see you immediately, we may recommend taking over the counter pain relievers to improve comfort.
MORE SEVERE EMERGENCIES
If you're experiencing any intense bleeding, or think you may have broken your jaw, please visit the nearest emergency room for assistance. We would be happy to assist you with any dental needs following your visit to the ER. Our top priority is to ensure patients' lives are not risk.