Cosmetic Dentist Enhancing Wakefield Smiles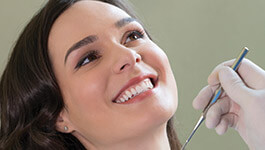 Not everyone is blessed with a naturally beautiful smile. In fact, many of the smiles you see on TV or the cover of the latest fashion magazine had a little help at some point. Whether through teeth whitening, porcelain veneers, or Invisalign orthodontics, others have achieved remarkable, life-changing results.
If you'd like to learn more about cosmetic dentistry and how it could improve your smile, we invite you to contact our Wakefield office for an appointment. You can also learn more about our services below.
Teeth Whitening
If embarrassing stains are preventing you from smiling with confidence, teeth whitening can help you achieve bright, confident results.
Tooth-Colored Fillings
With the cosmetic and restorative benefits of tooth-colored fillings, patients can be cavity-free without any of the drawbacks of metal fillings.
Porcelain Veneers
Using high-quality porcelain veneers, we hide cracked, chipped, stained, or misaligned teeth.
All-Ceramic Restorations
All-ceramic restorations are durable and have a more natural appearance than restorations made from other materials.
Invisalign
If you've avoided orthodontic care in the past because you didn't want to wear metal braces, let us talk to you about the benefits of treatment with Invisalign.