Porcelain Veneers in Wakefield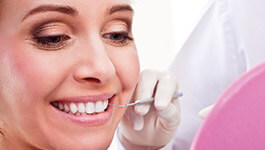 How do you feel about your smile when you see it in the mirror? Are stained, chipped, cracked, or slightly misaligned teeth keeping you from sharing it openly with friends and family? Consider improving your smile with porcelain veneers. Made from thin sheaths of quality dental porcelain, veneers cover common flaws creating a dazzlingly white, perfectly shaped smile that looks completely natural.
Your veneers procedure begins with a comprehensive oral exam at our Wakefield dental office. At the end of your appointment, Dr. Schumacher discusses the results of the exam, discuses the treatment process, and answers questions. In most cases, veneers can be placed in just two visits.
During your first appointment, we design your veneers, and prep your teeth. You leave our office wearing a temporary set of veneers. Then, when your custom set is finished, you return to our office to have the temporary set removed and your permanent veneers placed. Because they are custom-made for each patient, veneers complement your overall appearance.
With proper care, you can look forward to enjoying your veneers for years to come. Maintenance of veneers includes routine brushing and flossing, regular checkups, and cleanings with our Wakefield dental team.
Porcelain Veneers FAQs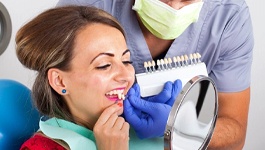 If you're looking to address cosmetic flaws in your smile, there are plenty of options available. However, none of them are quite as versatile as porcelain veneers. These thin sheaths of dental porcelain are essentially like little "masks" for your teeth, concealing virtually all of their aesthetic imperfections in one fell swoop. Dr. Schumacher is more than happy to help you achieve your dream smile with veneers, but you might have some questions about the process first. Here are the answers to some of the veneers questions that we get asked the most often.
How Are Porcelain Veneers Different from Dental Crowns?
Both veneers and dental crowns are restorations designed to cover up some part of a tooth. The main difference is that crowns (or tooth-shaped "caps") are designed to cover up the entire portion of the tooth that is visible above the gumline. Veneers, on the other hand, only conceal the front-facing surface of the tooth.
Will Getting Veneers Affect My Natural Teeth?
More often than not, Dr. Schumacher will have to "prep" your teeth before he can place veneers. This step of the process involved removing an ultra-thin layer of enamel and, if needed, reshaping it. Because tooth enamel does not grow back once it has been removed, the affected teeth will always need some sort of protection going forward, whether you choose to receive more veneers in the future or replace them with dental crowns. For this reason, veneers are considered a permanent treatment.
How Long Do Veneers Last?
Provided you properly care for your veneers with regular at-home oral hygiene and dental checkups with Dr. Schumacher, your veneers can last up to 20 years. As you go through the natural aging process, though, your teeth and gums will change, so your veneers must be replaced at some point.
How Much Do Veneers Cost?
Because no two teeth are exactly alike, each veneer is uniquely designed to blend in with each patient's smile. Therefore, there is no fixed cost of getting veneers since each one is made slightly differently according to your smile needs. The price of your veneers also depends on how many you're receiving and on which teeth they're being placed. Our team can provide you with a more personalized cost estimate during your consultation.
Does Getting Veneers Hurt?
You might be worried that getting a layer of enamel removed would hurt. Fortunately, this is not the case. Before beginning the procedure, Dr. Schumacher will administer a local anesthetic to ensure your mouth is good and numb. That way, you shouldn't feel any discomfort during your appointment. You may, however, feel a bit sore or sensitive for the next few days, but this can be easily managed by taking an over-the-counter pain reliever, such as ibuprofen, as needed.