Wakefield Restorative Dentistry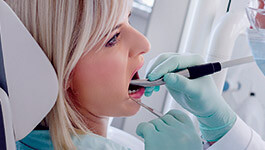 In addition to being a general dentist committed to quality preventive care, Dr. Schumacher is a board certified prosthodontist with years of advanced training and experience. Prosthodontics is a recognized dental specialty that focuses on the restoration or replacement of damaged teeth with the goal of preserving or rebuilding a smile compromised by disease, poor oral health, or traumatic injury.
At our Wakefield dental office, we offer a range of restorative dental services to restore smiles. Those services include:
CEREC Crowns
With our CEREC milling unit, we design, mill, and place a custom-made dental crown in just a single visit.
Crown and Bridges
A crown and bridge, also known as a fixed bridge, is a prosthetic designed to replace a missing tooth.
Partials and Dentures
Do you need to replace multiple teeth or a full row of teeth? Dr. Schumacher offers traditional partials and dentures, as well as implant-supported dentures.