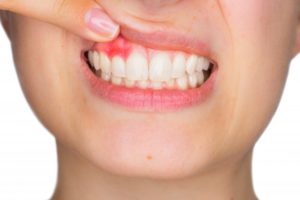 Do your teeth appear longer than they once were? Your pearly whites aren't growing, but your gums are receding. Gum recession can cause patients to lose their smile's beautiful appearance and this problem also comes with some serious health ramifications. Thankfully, your expert dentist knows the most common causes of gum recession in Wakefield and how to keep your gums healthy.
Why are Your Gums Important?
Gums are the pink tissue in your mouth that surrounds your teeth, containing many necessary blood vessels. Your gums are connected to your jawbone and cover each of your tooth's roots to protect them. When healthy, they form a turtleneck-like seal around each tooth. Your gums play a key role in the support and health of your teeth.
The Causes of Gum Recession
Gum recession occurs when you've experienced a loss of gum tissue. This exposes your sensitive and fragile roots, leaving them unprotected against plaque and bacteria. Poor oral hygiene and gum disease in Wakefield are the main causes of gum recession, but those with great oral health can also experience this problem.
Another main cause is physical wear and tear. Many people brush too aggressively with a hard-bristled toothbrush, which causes gum recession. This can sometimes be obvious because one side will have more recession than the other. This is due to the fact that you tend to brush with your dominant hand, putting more pressure on the opposite side of your gums. You may also be more susceptible to gum recession through family history or if you have overly sensitive gums.
Lastly, anything that causes inflammation or wear and tear on your gums causes recession. Lip or tongue piercings, misaligned teeth, and damage from dental treatment are just some of the examples that can cause recession.
How to Prevent Gum Recession
Fortunately, many of these problems can be prevented if you know how. Be sure to brush your teeth using a soft-bristled toothbrush too avoid abrasion. You should also think of brushing like massaging your teeth, rather than a hard-scrubbing motion. Additionally, floss daily to remove plaque and bacteria from in between your teeth. And, don't forget to schedule biannual checkups and cleanings with your dentist in Wakefield to prevent and detect issues before they get more serious.
Now that you know more about receding gums and the causes, how does your smile look and feel? Contact your dentist to learn about your options for a beautiful smile.
Meet the Dentist
Dr. Rob Schumacher is a dentist who is experienced in detecting and treating gum recession. He understands that those with receding gums may be self-conscious about their appearance, which is why he offers solutions to help. He currently runs his own practice, and he can be contacted through his website or by phone at (781) 334-3400 for any questions.