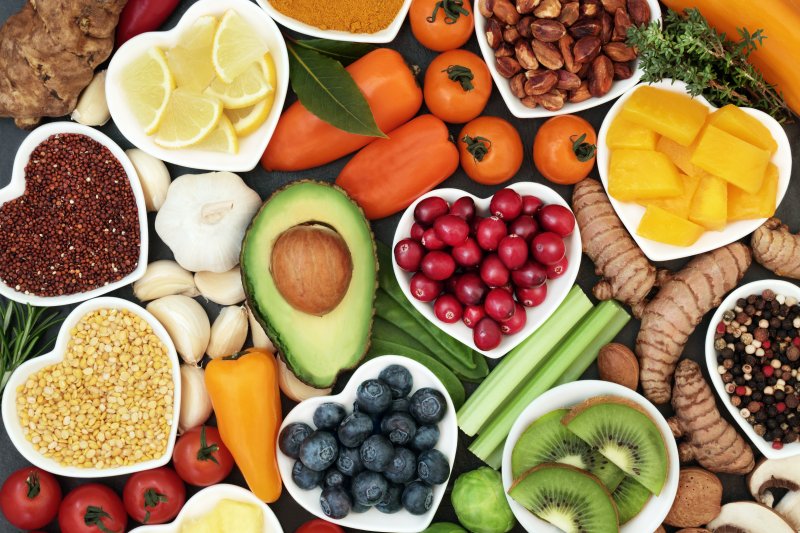 Everyone knows that proper dental care is the key to a healthy smile. However, good oral health involves more than just brushing and flossing. Your diet plays a crucial role in keeping your teeth and gums healthy too! For example, did you know that including certain vitamins and minerals in your diet can lower your chances of developing gum disease? It's true! Read along to learn which building blocks are essential for your dental health.
Calcium
It's no surprise that calcium is one of the most crucial minerals for teeth. It helps build strong bones and provides structural support for your body. Plus, it helps strengthen your teeth and jawbone and even works to prevent gum disease!
Without calcium, you increase your risk of developing an infection and tooth decay. In addition to dairy products (milk, cheese, and yogurt), you can get your calcium from eating salmon, sardines, beans, and green leafy vegetables like kale, okra, and spinach.
Vitamin D
Vitamin D is an essential mineral that helps your body absorb calcium and phosphorus in foods. Since you can't properly absorb other nutrients without it, your teeth are much more prone to decay, fracture, and disease. Getting adequate vitamin D is crucial to get the most out of your calcium intake!
Most people know that your body naturally makes vitamin D when exposed to sunlight. However, it can also be found in fatty fish, canned tuna, milk, egg yolks, cereal, portobello mushrooms, and fortified foods.
Potassium
Potassium helps improve bone mineral density (like tooth enamel) and promotes overall health. It can also help reduce blood pressure and prevent stroke, kidney stones, and osteoporosis.
Bananas are the most popular source of potassium, but it can also be found in several other fruits like oranges, cantaloupe, honeydew, apricots, grapefruit. Cooked spinach, broccoli, potatoes, sweet potatoes, legumes, avocados, peas, and cucumbers are other excellent sources of potassium.
Phosphorus
Like vitamin D, phosphorus is another important element that helps your body absorb calcium, which helps build strong bones and teeth. It also helps your body create protein for the growth and repair of cells and tissue.
You can find phosphorus in a variety of foods, such as dairy products, fish, meat, lentils, beans, whole grains, and nuts. Rich sources of the mineral include seafood, such as scallops, sardines, cod, shrimp, tuna, and salmon. If you're interested in getting it from plant-based foods, consider soybeans, lentils, and pumpkin seeds.
Vitamin C
Vitamin C, or ascorbic acid, helps strengthen your gums and the soft tissue in your mouth. It protects your gums against gingivitis, the earliest stage of periodontal disease. Plus, it's involved in helping the body form collagen, absorb iron, heal wounds, and regulate the immune system.
Citrus fruits are rich in vitamin C, but you can also find it in red pepper, tomatoes, sweet potatoes, leafy greens, broccoli, and brussels sprouts.
These essential nutrients can protect your teeth and gums from several oral health issues, including gum disease. By incorporating them into your diet, you can maintain a healthy smile and body!
About the Practice
At Schumacher Dental, we go above and beyond to provide dental services that exceed even the highest patient expectations. Our team develops top-notch, personalized treatment plans that are guaranteed to meet your unique needs and smile goals. Gum disease is a common problem that you may not even know you're affected by. Luckily, there are several steps we can take to prevent it. For more ways to take preventive action, visit our website or call (781) 334-3400 to speak to a professional.