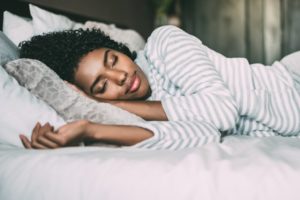 Sleep apnea is a problem that affects millions – the worst part is, many people don't even know they have it. This condition causes interrupted breathing that leads to poor sleep, which is why if you've identified sleep apnea, you're probably looking for ways to treat it. While there is no substitute for help from a professional, essential oils can surprisingly be used as an at-home remedy. Read to learn more about how essential oils may be able to help you catch some shuteye!
What Are Essential Oils?
Essential oils are compounds that are extracted from various plants while retaining their essence and flavor. Considered "volatile oils," true essential oils are created through a distillation process. While primarily used for aromatherapy, these unique compounds do offer a variety of other benefits by inhaling, diluting, or using them topically. Plus, some essential oils are safe to ingest.
How Do Essential Oils Help with Sleep Apnea?
Essential oils can actually treat a wide range of sleep disorders, including sleep apnea! Lavender is a great example – it eases insomnia symptoms as well as anxiety to help the body get better rest. Some oils can help the body sleep while others provide energy and focus. Essential oils help if you have sleep apnea by easing nerves, allowing your body to relax, and most importantly, improving your ability to breathe.
The Best Essential Oils for Sleep Apnea!
Now, time to get specific! You want to use essential oils that directly help with your sleep apnea and its symptoms. Here are the best oils to help you get the rest you need:
Marjoram: It has soothing properties that promote restful sleep! You can dilute it by mixing a few drops into carrier oil and applying it to your chest, wrists, and the bottoms of your feet.
Peppermint: This minty oil helps to clear nasal passages and congestion for better breathing. It can also relieve headaches. Put some peppermint in a diffuser before bed for the best results.
Lavender: Known to help soothe and relax, you can apply lavender to your neck, chest, feet, and pillow (it can also be diffused in your bedroom).
Eucalyptus: This anti-inflammatory clears mucus and opens airways for better breathing, which is key for those affected by sleep apnea. Eucalyptus can be diffused in your bedroom or simply put under your nostrils and on your chest.
Thyme: Thyme is a warm and potent oil that can help clear the airway while also preventing blockages. Just apply it to your neck and chest to start enjoying its effects during sleep.
Your rest is important, and if you have sleep apnea, you need all the help you can get. Try adding some of these essential oils to your routine to get better sleep for a better life!
Meet the Dentist
Dr. Rob Schumacher is a highly trained dentist who diagnoses and treats sleep apnea to help Wakefield patients live better, healthier lives. He offers custom-made oral appliances for easy breathing and great sleep as well as various tips for nightly rest. If you have any questions or want to schedule a consultation, he can be reached through his website or by phone at (781) 334-3400.