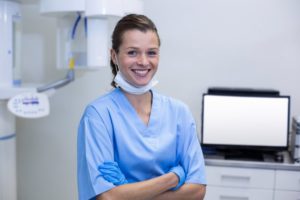 When you think about the place you go to receive dental care, the first person who comes to mind is probably your primary dentist. Of course, this makes sense, but have you stopped to consider all of the other people you see when you go in for your regular checkups? How about the person who spends a great deal of time cleaning your teeth and preparing them for the dentist to examine? Your dental hygienists are hard workers, and now is as great a time as ever to appreciate them even more. Keep reading to learn why!
Why Should You be Thankful for Your Dental Hygienists?
Before you head into the dentist's office for a routine checkup, there is a lot going on behind the scenes. Of course, you know your dentist will take great care of you, but there's another person you should show some appreciation to…your dental hygienist! Here's why:
They're a Recognizable Face
Sure, and so is your dentist, but let's be honest – who do you spend the most time with during a routine checkup? Your dental hygienist gets to ask you plenty of questions while your mouth is full of fluoride, and during that thirty or so minutes, you have the opportunity to get to know them and become comfortable with their treatment!
When it Comes to Defense, They're Your First Line!
When it comes to deep cleaning and cavity prevention, no one does it quite like your dental hygienist. You'll leave the office with a mouth full of teeth that feel cleaner than ever thanks to their hard preventive work.
Continuing Education is Vital for Their Success
The next time you visit your dentist for a cleaning and checkup, ask your hygienist what they're doing to further their education. Many hygienists have dreams of someday becoming dentists, which means they're probably putting a lot of time and money into gaining industry skills and knowledge.
They Are Probably Philanthropists
Studies show that 70% of dental hygienists are involved in 1 – 5 community service events each year. What better person to clean your teeth than someone who cares deeply about their community?
The next time you walk into your dentist's office, you can do so with a newfound appreciation for the person who prepares your teeth for inspection and greets you with a smile.
About the Practice
If you're searching for the highest caliber of dental care that Wakefield has to offer, then look no further than Dr. Rob Schumacher. He is passionate about helping his patients maintain healthy smiles, and he has a great appreciation for the team of experts he works with. Years of training and education give him the ability to take dentistry up a notch. Are you ready to schedule your next dental checkup? You can do so online or call (781) 334-3400.