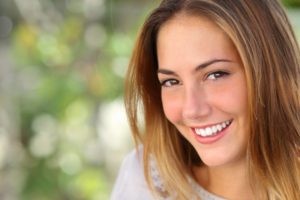 When it comes to transforming your smile, there are few cosmetic treatments quite like porcelain veneers. While placing them can take at least two visits, the results truly feel like night and day. Any imperfections in your smile, whether it be chips and cracks or unsightly discoloration, seem to vanish instantly. Patients considering this treatment are often afraid that their veneers will end up staining anyway, but your cosmetic dentist says otherwise.
Before we can explore why porcelain veneers in Wakefield don't stain like natural teeth, we need to understand why natural teeth are so susceptible to staining in the first place.
Why Teeth Stain
Technically, teeth can stain in two different ways. The first way is from extrinsic stains that target enamel and the second way is through intrinsic stains that target the dentin directly underneath enamel, as well as the inner tooth. While both can cause your teeth to lose it's radiant whiteness, the difference is significant.
When you consume food or drinks that carry a rich pigmentation, a layer of pellicle, or a thin film, sticks to the surface of your enamel. This is because enamel contains many grooves and micro-scratches for liquids to seep into, similar to clothing. Since enamel is naturally porous, it can easily seep down into the dentin if not promptly removed by brushing or using other fluoridated products.
Intrinsic stains are more difficult to treat since they appear from within the tooth rather than from external substances. They affect the inner layer of teeth and are typically caused by damage to the tooth's nerve canal or blood vessel, overexposure to fluoride during major developing years, or exposure to tetracycline before the age of 8.
Why Porcelain Doesn't Stain Like Teeth
Unlike natural teeth, porcelain is naturally non-porous. This means it's much smoother than tooth enamel and contains very few scratches, grooves, or other crevices for stains to seep into. They're also quite resistant to staining thanks to the layer of resin dentists often put on top of veneers for an additional layer of protection.
With that being said, it is possible to damage your veneers enough to where they can stain to some degree. For this reason, you'll want to make sure you are taking the necessary steps to reduce damage and make your investment last.
How to Care for Your Porcelain Veneers
With routine brushing, flossing, and dental visits, you can make your veneers last for many years to come. However, if the porcelain has been damaged by the following, your chances of staining your veneers will only increase. Therefore, you'll need to avoid or reduce your exposure to the following:
Using highly abrasive toothpastes or toothbrushes
Brushing too hard
Using tobacco products which contain tar and other compounds that stick to teeth
Eating hard candy, ice, or other very crunchy foods that can chip or scratch veneers
Direct contact to highly acidic foods and beverages, such as lemons, soda, alcoholic beverages or tomato-based sauces
Using your tooth as a tool
Biting your nails or other inedible objects
Want to learn more about the process for porcelain veneers in Wakefield? Schedule an appointment with your dentist today!
About the Author
Dr. Rob Schumacher is an expert when it comes to providing exceptional porcelain veneers. Thanks to his background in prosthodontics, he has the ability to express his artistic talents through cosmetic and restorative dentistry. To learn more about your cosmetic dentist in Wakefield, contact him through his website.