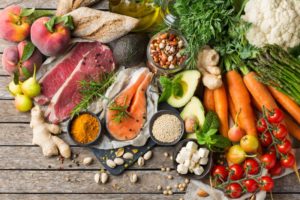 This March is National Nutrition Month, and with self isolation in full-swing, it's the perfect time to get to know how your diet impacts your teeth and gums. As you're sitting at home working or finding any way to distract yourself from how slowly the time is passing, try looking in your pantry and refrigerator and seeing how many tooth-healthy foods and drinks you have. Read on for four simple ways you can boost your dental health by incorporating certain foods in your diet.
Supplements For Healthy Gums
If you feel as though your diet is lacking in certain vitamins and minerals, it might be time to consider taking supplements to boost your oral and overall health. Are you eating enough of these nutrients?
Potassium: Not only does potassium improve your bone density, but it also works together with magnesium to make sure that blood doesn't become too acidic. Not having enough potassium can cause damage to your mouth, including enamel erosion.
Vitamin K: Bone strength is essential, especially because the foundation of your pearly whites is your jawbone. Vitamin K supports this structure and helps your ability to fight off gum disease by speeding up your body's healing process.
Vitamin A: When your mucous membranes are healthy, your smile is too. Vitamin A helps prevent dry mouth, which is a primary risk factor in the accumulation of gum-irritating harmful bacteria.
Eat Plenty of Calcium-Rich Dairy
If you don't have a lactose allergy, it's always a good idea to incorporate plenty of dairy products into your diet. Calcium helps strengthen and protect your teeth, so consuming plenty of it can keep your pearly whites from wearing away and becoming vulnerable against the threat of harmful bacteria. It will also help build the support for your mouth.
Snack on Fibrous Vegetables
Even though the go-to snack for most people who are self-isolating at the moment is a bag of potato chips, that's not the best choice for your mouth. Carbohydrates are a great food source for harmful oral bacteria, which can increase your risk of developing cavities. Instead, try substituting fibrous vegetables as a snack. These naturally brush away bacteria stuck to plaque on your teeth and are great for your overall health!
Keep Drinking Your Morning Cup of Coffee
Although most people would tell you to stop drinking your morning cup of Joe because it could stain your teeth, it's actually beneficial for your oral health. A study published in the Journal of Conservative Dentistry found that coffee contains a variety of beneficial antioxidants and other nutrients that help fight off a variety of health conditions as well as the bacteria that are known to cause cavities, called Streptococcus mutans.
Even though your diet may not seem like it makes a huge impact on your oral health, it definitely plays a vital role in the formation of common issues such as cavities and gum disease. By implementing these four nutritious suggestions into your diet, you can reduce your risk of developing these problems and preserve your natural smile, so you can enjoy it for years to come.
About the Author
Dr. Rob Schumacher has been practicing dentistry for over 14 years. He loves helping his patients optimize their at-home dental hygiene routines and providing them with high-quality preventive treatments, so they can keep their teeth and gums as healthy as possible. In addition to being a board-certified prosthodontist, he is also an active member of several professional organizations, including the American Dental Association. For questions or to schedule an appointment, visit Schumacher Dental's website or call 781-334-3400.