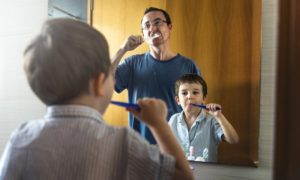 Cleanings are essential once every six months to prevent dental disease, so it's important that you make the effort to visit a hygienist when you have the time. While we typically think of the dentist when scheduling dental appointments, the fact is you're more likely to meet with dental hygienists than you are with dentists. They're the ones that perform the actual cleaning so once the dentist comes in, they'll have a clear view of all your oral structures.
Today, we'll be discussing how hygienists play such an important role in your oral health, what questions you should ask them during your visit and how to practice proper, at-home dental hygiene in Wakefield.
How Hygienists Protect Your Oral Health
Dental hygienists are trained to polish teeth, floss away plaque on the sides of teeth, and make sure no early signs of dental disease are apparent. If you're scheduled for a dental exam the same day as your cleaning, then they'll be able to summarize the overall status of your mouth so the dentist can better prepare.
As part of the summary they provides dentist, they'll go over your oral health history to see if any changes have occurred since your last visit. If there are negative changes, the hygienist will ask you about your oral care habits, changes in your diet, or other possible causes that may have led to this change.
Important Questions to Ask the Hygienist
While the dentist can answer any questions you may have, it doesn't mean that the hygienist isn't also a wealth of dental knowledge. During your appointment, it's a good idea to ask them questions that can help you improve your at-home care and your oral health in general.
For example, before they start the actual process of cleaning teeth and removing plaque, ask them what you could do to improve your at-home care. They'll be able to teach you the most effective techniques, whether they be for brushing or flossing.
Additionally, ask them what oral care products would be best based on your current oral health. Many products are ideal for those with a heightened risk of tooth decay or dental sensitivity.
Finally, if you haven't been to your family doctor yet, ask if there's anything regarding your oral health that you should also mention to your general practitioner. Keeping all medical professionals up to date on your current health allows them to provide more effective treatment plans as needed.
What At-Home Care Should Look Like
To make your oral care routine as efficient as possible, perform the following:
Brush for at least two minutes at a time
Hold the brush at a 45-degree angle
Use back and forth strokes
Brush the outer and inner surfaces of teeth
Brush the tongue to remove bacteria and maintain fresh breath
Want to learn more about how your dental hygienist can help? Schedule an appointment today!
About the Author
Dr. Rob Schumacher earned his dental education from the University of Kentucky and the University of Michigan. As a dentist in Wakefield, he understands the important role that each of his team members play, including the hardworking hygienists. To learn more about his practice, you can contact him through his website.