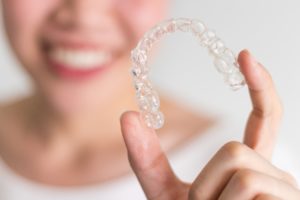 Are you embarrassed by gapped or crooked teeth? You have multiple options to invest in a straight smile. Don't worry, you don't have to deal with brackets and wires. Instead, you might be a candidate for Invisalign or veneers. Clear aligners can treat many bite and alignment issues, while veneers provide a quick fix for minor concerns, like gaps between teeth. Although both can create a straight smile, which is right for you? 
Invisalign Fixes Bite and Alignment Problems
Invisalign is a popular orthodontic system that doesn't use brackets or wires to move your teeth. Instead, clear aligners are fabricated to reposition your teeth gradually through continual pressure. It's a discreet, comfortable solution to correct various bite and alignment concerns.
You must commit to wearing the aligners for at least 22 hours per day and switch to the next set every 1-2 weeks as instructed by your dentist. The average treatment takes about 12 months, which can be a long commitment if you only have slight alignment issues.
Many dental insurance plans can be used to offset the cost of Invisalign. After meeting your annual deductible, your benefits will pay a maximum of $500 to $2,000, depending on your insurance plan.
Fix Many Imperfections with Veneers
A veneer is a thin shell that's bonded to the front side of a tooth to enhance its color, size, and shape. When veneers are applied to the teeth visible when smiling, they can address many imperfections at once, like chips, stains, and gaps. As a result, veneers are often referred to as "instant orthodontics."
The minimally invasive procedure can save time and money because you won't need multiple or lengthy treatments. In as few as 2 appointments, you can have straight, white teeth with results that can last for a decade or more. However, your dentist may recommend Invisalign before veneers if you need major tooth movements.
Veneers are considered elective, so most dental insurance won't cover their cost. Therefore, veneers can be the most cost-effective option because you won't have to pay for multiple procedures. You can pay for your new smile using monthly installments through a third-party financing company, like CareCredit.
Which Is Right for You?
While both treatments have their benefits, only a trained dental professional can determine which is right for you. Your cosmetic dentist will examine your mouth and learn more about your goals to achieve the smile of your dreams.
You don't have to be embarrassed by imperfect teeth. You can have a picture-perfect smile using the latest solutions in cosmetic dentistry.
About Dr. Rob Schumacher
Dr. Schumacher studied at both the University of Kentucky and the University of Michigan. He has completed advanced education in prosthodontics and many other specialties, like cosmetic dentistry. He is a proud member of many professional organizations, including the American Dental Association. Request an appointment through our website or call (781) 462-5029.