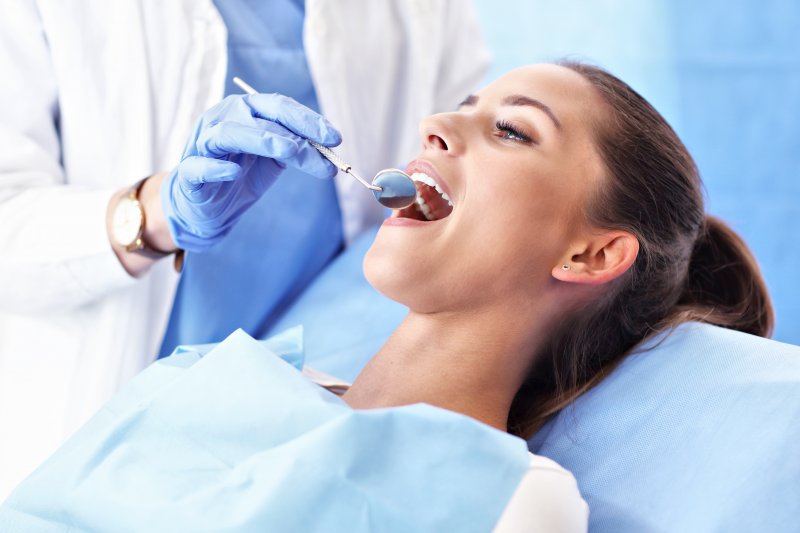 If you think the soft tissues of your mouth cannot be affected by decay or disease, you're unfortunately wrong. The teeth aren't the only parts of your smile that deserve to be healthy. Your gums are a vital aspect of your oral cavity and can easily be negatively impacted by injuries or decay caused by poor oral hygiene. Since September is National Gum Care Month, allow your dentist to explain the importance of your gums and ways you can keep them healthy and disease-free.
Why Are the Gums Important?
There are two major parts to teeth: the crown and the root. While the crown is the visible portion that lives above the gum line, the root lives down below, anchoring your teeth to the jawbone and surrounding tissues. This highly sensitive area is protected by your gums, which are the soft, pale tissues that line your mouth. When this area becomes infected or inflamed, it can result in problems for your teeth, bone, and overall health.
What is Gum Disease?
Gum disease occurs in stages and occurs when plaque and tartar begin to build around the gum line. The early stage is known as gingivitis. This is when your gums become red, puffy, and may even bleed slightly. If caught and addressed during this stage with thorough dental cleanings and good at-home oral hygiene habits, you and your dentist can actually reverse the symptoms and restore your gum health.
Should gingivitis escalate to periodontitis, your gums will bleed, be tender and inflamed, and you might even notice small pimple-like bumps developing on your gums and teeth that look longer because of a receding gum line. The only way to prevent tooth and bone loss, which occurs in advanced periodontitis, is to perform a deep cleaning, or scaling and root planing procedure, which effectively removes all plaque and tartar from above and below the gum line as well as smooths out the tooth root and encourages it to reattach to your gums.
How Can it Affect My Overall Health?
This extremely common dental problem doesn't only affect your oral health. In fact, the inflammation and infection associated with gum disease can actually enter your bloodstream and lead to serious health problems, such as:
Heart attack
Stroke
Diabetes
Premature birth
Low birth weight
Alzheimer's/Dementia
Osteoporosis
Respiratory disease
Cancer
Once it enters the body, it can travel anywhere and begin to negatively impact your well-being. Everyone is different, so gum disease will affect each person differently; however, it's important that you seek treatment as soon as possible while it is in the early stages.
How Can I Prevent Gum Disease
If you're looking for ways to prevent gum disease or keep it from returning, here are 5 tips you should follow:
Brush your teeth with a soft-bristled brush and fluoride toothpaste twice a day for two full minutes.
Floss after every meal, or at least once a day, but be careful not to do it incorrectly, as it can damage your gums.
Use an antimicrobial mouthwash to rinse away any leftover bacteria or food particles.
Keep your regular dental appointments every six months to allow your dentist to examine your gums, teeth, and facial structure.
Avoid consuming foods and beverages with too much sugar or starch, as both encourage harmful bacteria to breed and turn into plaque and tartar.
Good gum health leads to healthy smiles and bodies, so instead of thinking they are just another part of your mouth that you may or may not like, look at them as a crucial aspect to maintaining optimal oral health. Making the right decisions regarding your diet and practicing good oral hygiene habits will help you to keep your gums in the best shape possible for years to come.
About the Author
Dr. Rob Schumacher completed his undergraduate studies at Asbury College in Willmore, Kentucky. He then went on to the University of Kentucky and the University of Michigan for dental training. Dr. Schumacher is a nationally board-certified prosthodontist who is passionate about helping his patients achieve healthy, beautiful smiles. Embracing his artistic abilities through cosmetic and restorative dentistry, he looks forward to providing services that can improve the look and well-being of a person's smile and overall health. From teeth whitening to gum disease, Dr. Schumacher and his team can take your smile and transform it into something healthy and pristine. To learn more, contact us at (781) 334-3400.