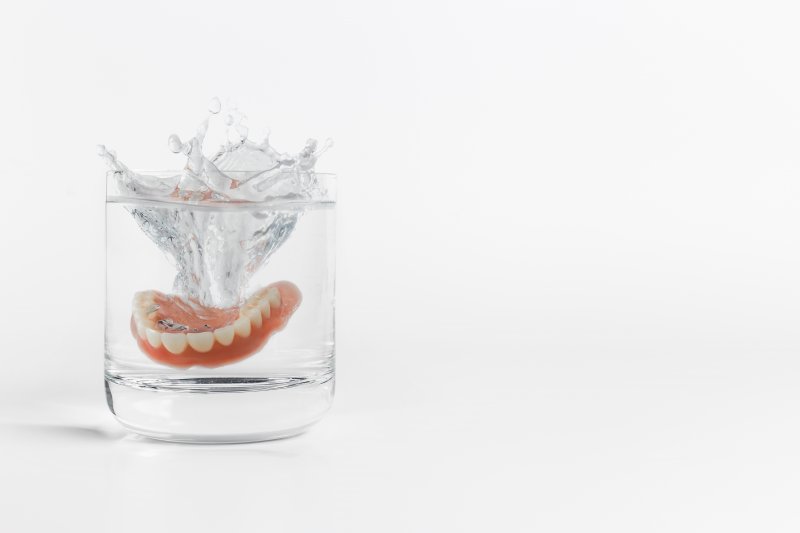 True, today's dentures are comfier than those of years past. Some patients even forget that they're wearing the restorations! Even so, it's not a good idea to wear dentures constantly. Having them in your mouth too often causes severe problems. As for how long you can wear the prosthetics, your local Wakefield dentist will explain. Read on, then, to learn the proper denture wear time and the risks of going past it.
How Long, Exactly, Can You Wear Dentures?
From the beginning, dentures weren't meant for 24/7 use. Dentists thus recommend that you only wear them during daylight hours. Once the evening arrives, you should remove the dentures and store them overnight in a cleaning solution.
As it turns out, your mouth needs to rest from dentures six-to-eight hours daily. Doing so allows its tissues to recover for the day ahead. Plus, soaking the dentures ensures they're clean when you next wear them.
Risks of Prolonged Denture Use
In truth, wearing dentures for too long will cause health problems. The most common of these include the following:
Denture Stomatitis
When continually covered by dentures, soft mouth tissues become unhealthy. At that point, they'll be at serious risk of denture stomatitis.
Due to yeast and bacterial buildup, denture stomatitis is unpleasant. It inflames various mouth tissues, leading to a painful burning sensation. Should the inflammation become chronic, it'll also weaken and suppress your immune system. Either way, this condition's sufferers often struggle even to wear dentures.
Respiratory Problems
Perhaps surprisingly, denture overuse doesn't just cause mouth issues; it also puts you at risk of respiratory problems.
You see, wearing dentures overnight exposes your throat to bacteria. From there, you're much more likely to develop colds, respiratory infections, and pneumonia. This last illness is especially dire, as those who wear dentures 24/7 are likelier to get a deadly variety.
Sped-Up Bone Loss
For better or worse, dentures put pressure on the gum tissue and bony ridges supporting them. This force is normally managed with the overnight recovery period. However, wearing dentures constantly means the pressure causes problems.
More specifically, constant denture pressure speeds up bone resorption. This process, in turn, leads to a substantial decrease in bone quantity and density. Combined with the acceleration, it'll eventually deprive your dentures of support such that they don't fit well.
Ultimately, you should only wear dentures until bedtime each day. Anything more risks the challenges listed above!
About the Practice
Schumacher Dental is based in Wakefield, MA. Led by Dr. Rob Schumacher, our practice strives to meet and exceed patient expectations. To that end, we perform preventive, cosmetic, and restorative services, as well as emergency dental care. Thus, you can trust us for dentures, dental implants, and other tooth-replacement needs. For more information or to book a visit, you can reach us on our website or by phone at (781)-334-3400.