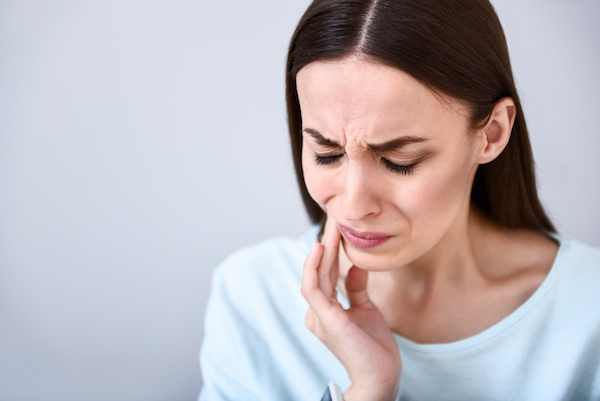 Maybe you wake up to a dull ache in your jaw. Or, perhaps you bite down on something crunchy and feel a pang in a molar. Whatever causes a toothache or dental injury, one thing is for sure – you don't want to ignore it. The connection between your teeth and your overall health is strong, and there can be serious consequences for putting off necessary dental care. Keep reading to learn more about why you don't want to wait to see the dentist for a toothache or injury. 
How a Toothache Can Affect Your Body
A minor toothache can usually be treated simply with a filling, crown, or other emergency dentistry procedure. But, if a toothache is ignored, the affected tooth can become infected. And when that infection is not treated, it may spread to the rest of your body. Then, the results can be serious, or even fatal. That means seeking the dental care you need promptly may not only save you time, money, and discomfort – it could also save your life.
Signs of a Tooth Infection
If you experience any of the following symptoms, it is highly likely you have an infection in one or more teeth. You should visit an emergency dentist for treatment as soon as possible.
Throbbing pain in a tooth
Throbbing pain in the jaw or ear
Fever
Bad breath
Sensitivity to pressure, heat, and cold
Swelling
If you ignore these symptoms long enough, you may find yourself with an infection that has spread throughout the body. You should seek immediate medical attention if you have a high fever accompanied by chest pain, difficulty breathing, mental confusion, or seizures.
How to Prevent Toothaches
Fortunately, it is completely possible to prevent infections in the mouth. Some of the ways to ensure that your teeth stay healthy to protect your overall health include:
Brush your teeth for two minutes, at least twice a day, and floss between teeth daily
Visit your dentist twice annually or as often as recommended
Drink plenty of water throughout the day
Eat a balanced, nutritious diet and minimize the consumption of sweets and sugary beverages 
Do not smoke or use tobacco
In general, prevention is the best course of action when it comes to your oral and overall health. If you know you need dental care, or if it has just been awhile since your last visit to the dentist, don't wait to schedule that visit!
Meet the Dentist
Dr. Rob Schumacher and the entire Schumacher Dental team offer exceptional oral health care in a state-of-the-art environment. In addition to routine checkups and cleanings, Dr. Schumacher is also a prosthodontist who offers a host of restorative dentistry services as well as emergency dental treatments to get you out of pain and on with your life after a toothache. To learn more about what treatments are available, or to schedule an appointment, visit their website or call their office at (781) 463-5029 today.