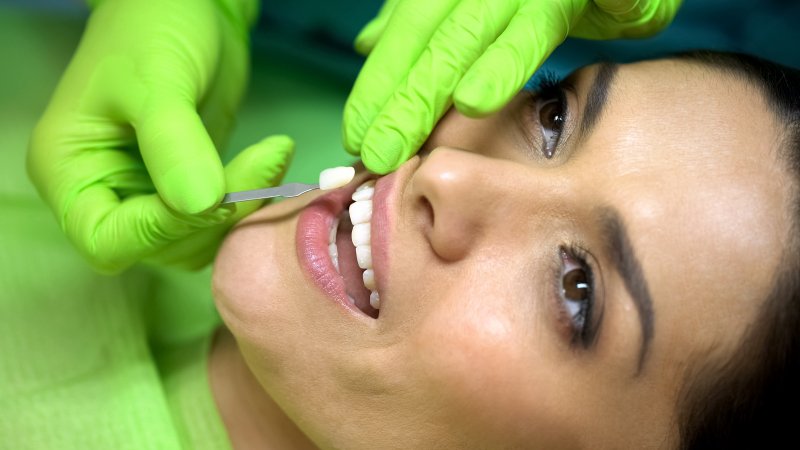 Are you looking to enhance your smile? Everyone wants to feel confident about how their teeth look. One of the great things about living in today's world is the fact that you no longer need to settle for a smile that you aren't happy to show off. There are all sorts of cosmetic dental treatments out there, like porcelain veneers, that can make a world of a difference for your smile. Because they are such an investment, there are some facts about veneers that you should know.
Veneers Cover Up Imperfections
Teeth that are cracked, chipped, gapped, misshapen, and discolored can often times be solved by porcelain veneers. They are thin shells of porcelain that are placed on the front surface of the teeth. Each veneer is customized to be the exact size, shape, and colored needed to blend in with the rest of your smile.
You Don't Need a Veneer on Every Tooth
While some patients opt to have a veneer placed on every tooth for a more dramatic makeover, you don't need to do this. Instead, you could choose to just get one or two to correct flaws. Either way, you just need to work with your cosmetic dentist to come up with a plan that fits your needs the best.
Veneers Are Permanent
In order to place veneers, a thin layer of your protective enamel must be removed to allow the veneer to adhere to the tooth without looking too bulky. You cannot have your veneers removed and go back to the way that your teeth were before because enamel does not grow back. They are a great way to meet your smile goals, but it is important that you understand that they are permanent.
Porcelain Veneers Are Long Lasting
They aren't made to last forever, but your veneers should last anywhere between 15 and 20 years if not more. In order for them to be around for this long, you will need to ensure that you are caring for them properly. This means that you must brush twice and floss at least once every day. Avoid foods that cause staining, like red wine, coffee, berries, and black tea.
Veneers Can Be Placed in a Couple of Visits
The entire process of getting your veneers is minimally invasive. After determining that you make a good candidate for the procedure, your dentist will remove a small layer of your protective enamel to create room for your veneer. After an impression is taken of your bite, they will send it off to a dental laboratory in order for your veneers to be custom made. You will be given temporary veneers to wear until your next visit, when your permanent ones will be placed.
Porcelain veneers are a great way to perfect your smile, but they are an investment. By staying well informed, you can make the best decisions for your pearly whites!
About the Author
Dr. Rob Schumacher is an experienced dentist who has been in practice for more than 14 years. For his dental training, he attended both the University of Kentucky and University of Michigan. In addition to being a nationally board-certified prosthodontist, he is also a member of numerous professional organizations, including the American Dental Association, Massachusetts Dental Association, and American College of Prosthodontics. For more information on porcelain veneers or to schedule an appointment at his office in Wakefield, visit his website or call (781) 334-3400.