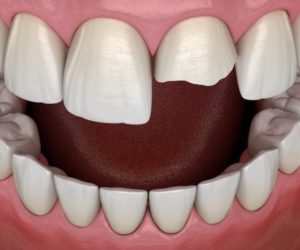 Your teeth are pretty amazing structures. A tooth is composed of three layers: enamel, dentin, and pulp. Enamel is the hard outside layer you see when looking in the mirror. It's your tooth's defense system, protecting the softer underlying dentin and pulp. It is also the hardest substance in your body, but it isn't indestructible. Accidents can happen, and a tooth can get chipped. Unfortunately, your enamel won't grow back. Here's why you need to see a dentist even if the chip is minor. 
Chipped Teeth Don't Heal
Enamel is made of calcium phosphate, a mineral arranged in a crystal structure called hydroxyapatite. The shiny coating on the outside of your teeth is stronger than bone, and even some steel. However, your enamel can't regenerate. Once it is gone, you've lost it for good. Therefore, a chipped tooth will never grow back. At most, your tooth will remineralize, but it will be vulnerable to bacteria and additional damage without any treatment.
Minor chips may not appear alarming, especially if you aren't in pain, but you need to contact an emergency dentist. A minor issue can turn into a big problem if you wait too long to have the chip repaired.
Handling a Chipped Tooth
After contacting your dentist for an emergency visit, follow a few tips at home to protect your tooth and manage your pain until your appointment:
Rinse your mouth with salt water to kill bacteria while reducing pain and inflammation.
Take an OTC pain reliever.
Chew on the opposite side of your mouth.
Eat softer foods.
Sleep with your pillow elevated to avoid a throbbing toothache.
Your dentist will get you into the office quickly. After addressing any pain and examining your mouth, they'll create a personalized treatment plan, which may include:
Dental Bonding: A composite resin is shaded to match your enamel to blend in when fixing the chip.
Veneer: A thin shell is applied to the front surface of a tooth to cover minor imperfections, like a chip.
Dental Crown: Significant breaks or fractures may require a dental crown to treat. It will cover the entire surface of a tooth above the gum line.
Preventing Chipped Teeth
You can't always stop a dental emergency from occurring, but you can take several precautions to lower your risk of a chipped tooth, including:
Commit to a solid oral hygiene routine at home.
Visit your dentist every 6 months for a cleaning and checkup.
Don't use your teeth in place of scissors.
Don't chew on inedible objects.
Wear an athletic mouthguard if you play sports.
Wear a nightguard if you grind or clench your teeth.
If the worst should happen, contact your emergency dentist right away. They'll repair your tooth to restore a healthy, beautiful smile.
About Dr. Rob Schumacher
Dr. Schumacher underwent his dental training at the University of Kentucky and the University of Michigan. He is also a nationally board-certified prosthodontist and an active member of various professional organizations, including the American Dental Association. If you have a dental emergency, contact our office today for an appointment.