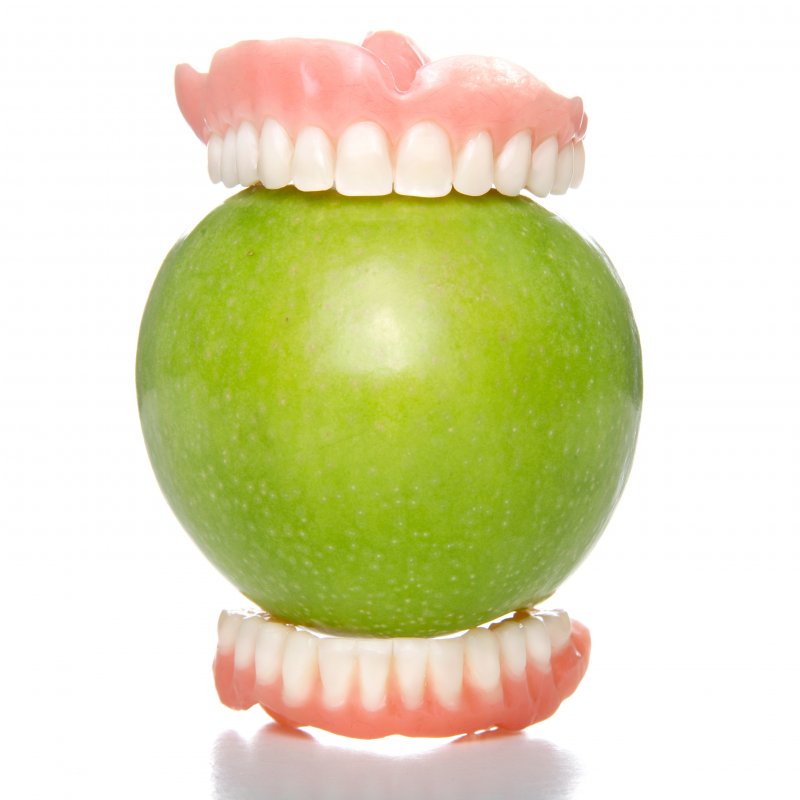 Dentures really are an effective dental treatment — they fill the gaps in your smile, improve your ability to eat and speak, and even boost your self-confidence. Overall, you're better off wearing them than having no dental prosthetic. However, did you know they can interfere with daily nutrition?
Here's a summary of the negative link between dentures and nutritional health, including how dental implants could resolve it. Read it and see if your false teeth could use more tuning!
How are Dentures & Nutrition Linked?
As you may already know, most dentures can be taken out. Instead of bonding to your mouth, they stay in place with suction, adhesive, and muscle control. As a result, they sometimes slip or fall out when you speak or eat.
This lack of bonding hurts nutritional health by reducing your bite force. Dentures don't let you chew food with much strength, so you often have to swallow larger pieces that are hard to digest. They also encourage you to swallow earlier in the chewing process, which limits the breakdown from saliva. Studies show short chewing periods and swallowing larger food chunks — the effects just described — reduce the body's ability to absorb nutrients.
Dentures can also lead to negative diet changes, as chewing difficulty forces people to eat less of the meats, fruits, and vegetables they need.
How Dental Implants Can Help
Adding dental implants to your mouth would solve these sorts of problems. They could connect to your already-existing dentures and, in doing so, link with your jawbone.
Such a connection has several advantages. First, it holds your dentures over the jawbone to reduce the chance of loosening. It also translates the forces your false teeth receive into the jaw. As a result, you'll find it easier to chew food into smaller, digestible bits and receive the nutrition to stay healthy.
Talk To Your Dentist
If you're interested in implant dentures, schedule a meeting with your local dentist. They'll answer your questions about the process and help you determine the best treatment option. If you already have regular dentures, they may be able to switch you to implant-supported ones for better chewing and food absorption.
While dentures do restore your smile, you can see that they make healthy eating difficult. Consider talking to your dentist about getting implants too so your whole body benefits!
About the Author
Dr. Rob Schumacher is a prosthodontist based in Wakefield, MA, having studied at both the University of Kentucky and the University of Michigan. Over his fourteen years of practice, he's gained membership in the American Dental Association, the Massachusetts Dental Association, and the American College of Prosthodontics. He values the opportunity his work gives him to express his artistic abilities through cosmetic and restorative dentistry. He currently practices at Schumacher Dental and can be reached at his website or by phone at (781)-334-3400.