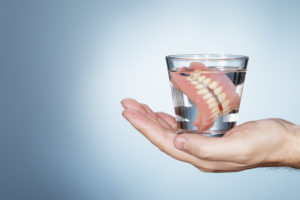 Dentures are a great way to replace several missing teeth — as long as they fit properly. If you are having trouble with a loose, uncomfortable, or ill-fitting denture in Wakefield, your dentist can help you find a solution. Keep reading to learn more about why dentures lose their fit over time and what you can do about it. Because everyone deserves to enjoy all the benefits of a complete, healthy, and properly-functioning smile.
How Dentures Are Created
Whether it is complete or partial, a denture is created over the course of several weeks and multiple visits to your dentist's office. It will take a few iterations to get the fit just right. First, impressions and X-rays of your jaw and any remaining teeth are taken. From these specifications, a wax-up model is created and tested out. After adjustments are made based on the way your upper and lower jaw fit together, an initial denture will be created in a separate lab. You'll visit your dentist again for more tweaks as necessary. Once the proper alignment is achieved, the process is complete — and you get to go home with a comfortable, well-fitting denture. You can expect a conventional denture to last for 5 to 7 years before it will need to be replaced.
What Causes a Loose Denture?
Even if all the above steps are completed, a denture may still feel loose or uncomfortable over time. This can be the result of several factors. Some of the most common reasons for an ill-fitting denture include:
Bone resorption: When teeth have been lost, the jaw bone does not receive the nutrients it needs to stay healthy and whole. This nutrient deficiency will cause the bone to gradually diminish or resorb — changing to a shape that does not fit your denture anymore.

Everyday wear and tear: Dentures are made of sturdy materials, but they are still vulnerable to natural wear and tear. This process may accelerate if you do not perform the proper denture maintenance techniques, like taking it out and soaking it at night.

Improper fit: Sometimes a denture simply was not fit properly from the start. If you never manage to adjust to your new denture, do not hesitate to get in touch with your dentist. It is possible that a minor tweak could help you enjoy a more comfortable denture.

Time: A conventional dentist will require replacement after 5 to 7 years.
What to Do about a Loose Denture
If you are dealing with a denture that slips and slides around or that clicks when you speak or eat, it's time to contact your dentist for an appointment. In the meantime, you may be able to secure the prosthetic with a denture adhesive. It may help to eat softer foods until you can find a solution. For eligible candidates, implant-retained dentures in Wakefield can offer increased security for a loose prosthetic.
Don't panic over a loose denture — it will likely happen at some point or another! Just make sure you get in touch with your dentist for a solution ASAP.
Meet the Practice
Schumacher Dental offers comprehensive dental care from the comfort of a state-of-the-art office. An expert restorative dentist, Dr. Rob Schumacher has been completing smiles beautifully for over 14 years. Learn more about dentures or your options in tooth replacement by calling (800) 523-2427 today.