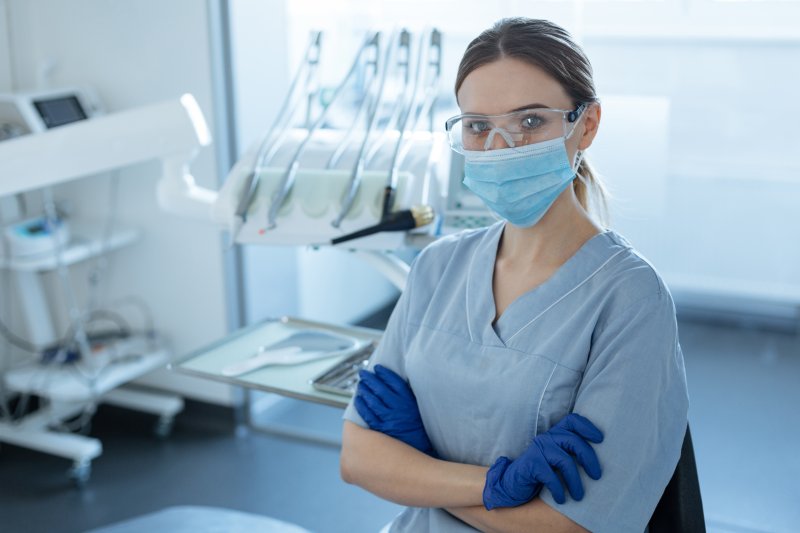 This year has been full of all sorts of unexpected changes that we never could have anticipated. It has made planning and going through day to day life extremely challenging and frustrating. We never thought this would last so long, but here we are! You have been working from home, social distancing as much as physically possible, and even wearing a face covering whenever you are in a public place. You may be wondering: "Is it safe to go to the dentist?" The answer is, yes! Not only is it safe, but it is essential for your oral health and your overall wellbeing. Continue reading to learn why you shouldn't be putting off seeing your dentist in Wakefield due to the COVID-19 pandemic.
Visiting the Dentist is Essential for Your Health
You know that having non-essential public outings has been a hard no for a while, but the dentist does not fall into this category. Even though you may think of the dentist as a place where you get your teeth cleaned up and polished, there is much more to it than just that. Not only does your dentist clear away plaque and tartar that builds up in your mouth and causes oral health problems, they also check your mouth for early signs of gum disease, oral cancer, and other problems. Catching these issues early on is essential for a full recovery.
Oral Health Affects Your Body's Immune System
If you aren't taking good care of your smile with good oral hygiene and regular dental visits, you will eventually have a buildup of bacteria that can lead to bad breath, tooth decay, and worse issues like periodontal disease. If you have a gum infection in your mouth, you will need the help of both your dentist and your immune system to fight it off. As powerful as your immune system is, it can only do so many things as once. If it is busy fighting off invaders in the mouth, it is much easier for you to develop an infection somewhere else in the body and get sick!
Your Dental Office Is Safe
Both the World Health Organization (WHO) and the Centers for Disease Control and Prevention (CDC) have reported that there have been no confirmed cases of COVID-19 that have been linked back to the dental office. There are several measures that your dentist is always taking to ensure that this doesn't change:
Increased Sanitation: The instruments that are used to clean your teeth are sterilized between patients with the use of an autoclave. Surfaces throughout the practice are regularly disinfected.
Personal Protective Equipment (PPE): Your dental team is wearing PPE, as always, when caring for patients. This includes masks, disposable gloves, and anything else the team deems necessary.
Personal Hygiene: All dental staff are required to wash their hands frequently to prevent the spread of germs.
Just because we're living through a pandemic doesn't mean that you should be neglecting your oral health. Your dental team is doing everything they can to provide treatment in a clean, safe environment.
About the Author
Dr. Rob Schumacher is a well experience prosthodontist in Wakefield who has been in practice for over 14 years. As for his dental education, he studied at both the University of Kentucky and the University of Michigan. He is a member of several different professional organizations including the American Dental Association and the Massachusetts Dental Association. For more information on Dr. Schumacher or to schedule an appointment, visit his website or call (781) 334-3400.