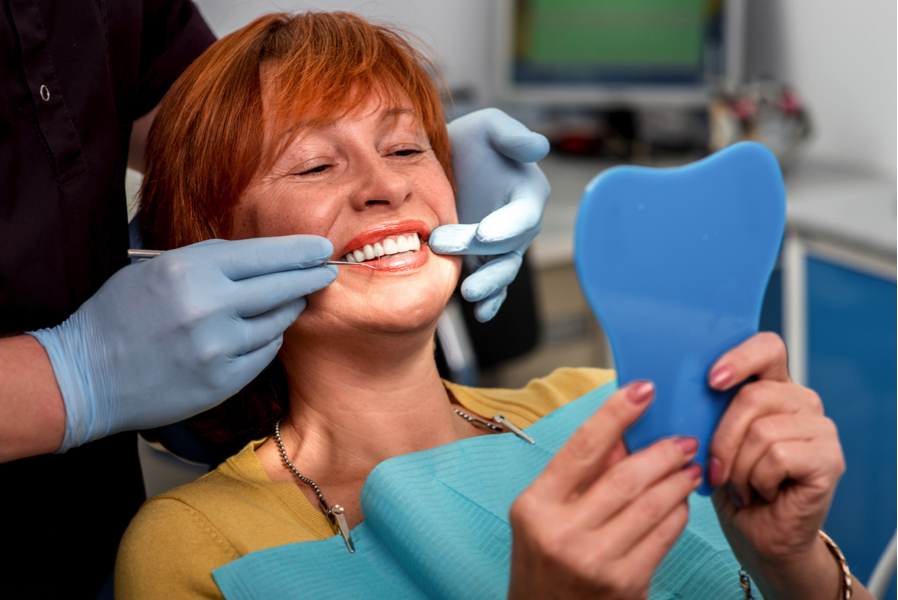 Menopause is known to cause hot flashes, a slower metabolism, mood changes and more. It also increases the risk of osteoporosis. But did you know that gum disease is also more common among menopausal women? Sometimes called periodontal disease, this serious condition is the #1 cause of tooth loss. Keep reading for valuable information about menopause and oral health. You'll also learn how a dentist can restore your smile after tooth loss with outstanding options like dental implants, bridges, or dentures.
The Link Between Menopause and Oral Health
As estrogen levels drop during menopause, a decrease in bone density can occur throughout the body. In addition to affecting the bone in the hips, spine and more, it can also impact the jawbone.
The jawbone is what surrounds the roots of the teeth and gives them support. As this support is progressivley lost, gum disease and tooth loss are more likely to occur.
To counteract the effects of menopause and minimize oral health problems, it's crucial to see a dentist for regular checkups and cleanings. Your oral hygiene habits at home will also make a big difference. In general, the cleaner your teeth and gums are, the fewer problems you'll have.
Options For Replacing Missing Teeth
If you've experienced tooth loss during menopause, a dentist or prosthodontist (a specialist in the replacement of missing teeth) has excellent options for replacement. After they've evaluated your overall dental health, lifestyle, goals, and the bone levels in your jaw, they'll recommend the best option for you. Here are several possibilities:
Dental implants – This option is unique because it replaces both the root and crown of a missing tooth. This gives you the most natural look, feel and function. Implants also last much longer than other options (30 years or more with basic maintenance).
Bridges – A bridge relies on the two adjacent teeth on either side of a missing tooth for strength. After putting crowns on these teeth, they support a "floating" prosthetic tooth in the middle. A bridge can also be supported by dental implants.
Dentures – A full or partial denture includes prosthetic teeth in a gum-colored acrylic base. Dentures are customized to each patient's needs and can also be supported by implants, which greatly increases their comfort and stability.
Menopause increases your risk of tooth loss, which can seriously impact your quality of life. But with preventive care or one of these replacement options, it doesn't have to!
About the Author
Dr. Rob Schumacher is a board-certified prosthodontist with advanced training to provide bridges, dental implants, dentures and more. With 15 years of experience, he's worked with people at every stage of life to restore their smiles after tooth loss. If you'd like more information about menopause and oral health or have any questions, he can be contacted via his website.