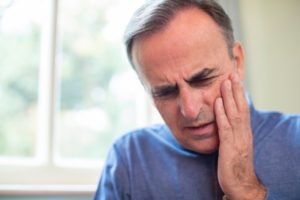 During COVID-19, you're probably staying at home to avoid being affected while helping to prevent the spread of this contagious virus. However, what happens if you have a dental emergency? Extreme pain or injury in your mouth requires immediate treatment, so where do you go: the emergency room or your dentist? Keep reading to find out the answer that can save your smile.
When Are You Having a Real Emergency?
Have you ever felt immense pain in your mouth only to find it was a pesky popcorn kernel stuck in between your smile? Dental discomfort is fairly common, so try flossing and rinsing your mouth first. If your pain persists, you may have a toothache, which is considered a dental emergency. Additionally, lost crowns, lost fillings, broken teeth, cracked teeth, and lost teeth are some common examples of emergencies. The best way to know if you have a true problem is if you're experiencing pain that takes away from your normal activities—this is a true dental emergency. If you're uncertain, call your dentist right away.
Why You Should See Your Dentist, Especially Now
For many cases of dental emergencies, seeing the dentist is better because they specialize in oral healthcare with all of the treatments you need at the same location. They can perform treatments like root canals to save your tooth from extraction. However, during the spread of the Coronavirus, it's especially vital to see your dentist rather than visiting an urgent care facility. Dentist's offices are not only incredibly sanitized, but they experience far less foot traffic than the average ER. Plus, by visiting your dentist, you're allowing the medical pros at the ER to deal with more potential cases of the virus instead of treating your dental injury.
When a Trip to the ER is Necessary
While you should always try to visit your dentist if you can, there are some situations that require an immediate visit to the ER. If you experience jaw injuries, problems with breathing, deep facial wounds, uncontrollable bleeding, or any other potentially life-threatening emergencies, go to the nearest urgent care facility right away. These problems may require general medical attention, and the fastest treatment available, which is why it's vital to visit the ER.
Do you have a dental emergency during the Coronavirus? There's no need to worry! Just remember this important information and call your dentist right away if a problem does occur.
Meet the Dentist
Dr. Rob Schumacher is a board-certified prosthodontist who offers a wide range of restorative treatments like root canals, custom dental crowns, and dental implants to repair your smile in the event of an emergency. He understands that you may be feeling anxious during this time, which is why he wants you to know he is ready to help you get out of pain when you need it most. For any questions, he can be reached through his website or by phone at (781) 334-3400.