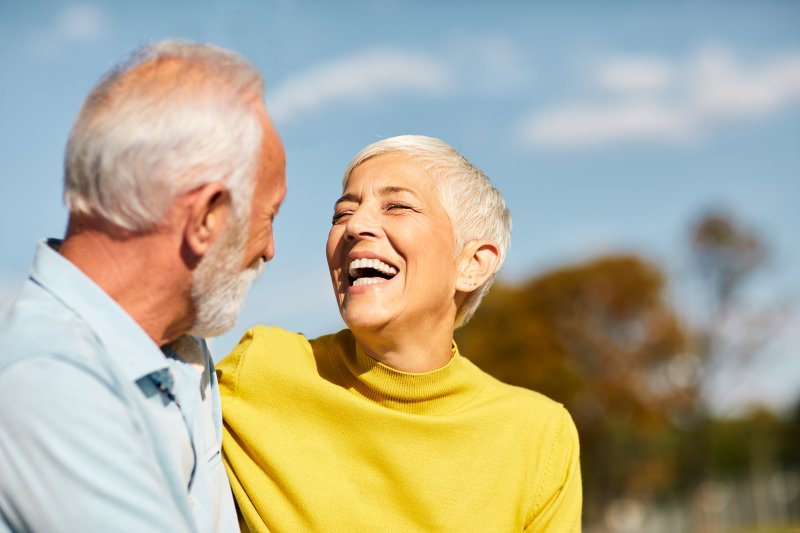 Everyone deserves a full, healthy, beautiful smile. However, that can be difficult with years of enamel erosion, discoloration, and decay working against you. Fortunately, that's where cosmetic dentistry comes in! Not only are the results natural-looking, but they are also safe and completed with the latest technology and techniques. Plus, there is no age limit! So, whether you are 65 or 105, here's how a cosmetic dentist can help you achieve your smile goals!
#1. Remove Stubborn Stains with Teeth Whitening Treatments
From your morning cup of coffee to your evening glass of red wine, some of the finer things in life are notorious for staining your teeth. So, if your once white enamel is starting to take on a yellow tinge, talk to your dentist about professional teeth whitening. In addition to removing caked-on stains, the safe, powerful brightening gel can lighten your smile up to eight shades in one visit!
#2. Restore Damaged Teeth with Tooth-Colored Fillings
Today, tooth decay is one of the most prevalent conditions facing Americans. In fact, it is second only to the common cold! Decades prior, treatment would necessitate metal fillings that were effective but took a toll on the appearance of your smile. However, modern fillings are crafted from tooth-colored materials that are seamless and long-lasting. That way, you can get the treatment you need without the unpleasant dark spots.
#3. Fix Worn or Broken-Down Teeth with Porcelain Veneers
Enamel is the hardest material in the human body, but it is by no means indestructible. Therefore, you may begin to notice that your once strong teeth are starting to crack or chip. The good news is that porcelain veneers can correct these issues (and more!) with one flawless treatment solution. By applying a thin layer to the front of your tooth, the high-quality material can reinforce the structure while simultaneously fixing everything from a small crack to severe discoloration.
#4. Straighten Crooked or Crowded Teeth with Invisalign
Think braces are just for teens and young adults? Think again! Teeth-straightening solutions like Invisalign can help you discreetly achieve your smile goals in an average of 12 months. Plus, they are easy to care for, bypass pesky food restrictions, and are completely removable.
Through every stage of your life, you should be able to smile confidently. If imperfections in your smile are preventing you from doing so, then make sure to talk to your dental team about whether cosmetic dentistry is right for you!
About the Author
Dr. Rob Schumacher is a board-certified prosthodontist who has over 14 years of experience helping patients of all ages achieve their smile goals. Whether you need to fix a minor imperfection on one tooth or need a full smile transformation, he will use his artistic abilities and the latest techniques to address your unique dental needs. If you are ready to straighten, brighten, and otherwise perfect your smile, then visit his website or give him a call at 781-334-3400.