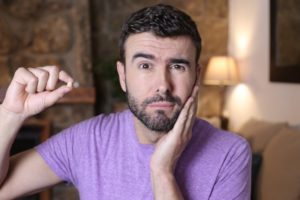 Knowing how to save your tooth after an accident or sports injury can be difficult if you haven't already learned what to do, not to mention scary since you might be in a state of shock. Should you put the tooth back into its socket or call your dentist immediately? Fortunately, if you remain calm and act decisively, you can elevate your chances of saving your knocked-out tooth long enough for your emergency dentist in Wakefield to help.
Do I Try to Deal with My Knocked-Out Tooth without Help?
If you find yourself in a situation where you have a knocked-out tooth, you can and should put it back into the socket if you are able. However, you can't just go on as normal afterward. This only helps to temporarily keep the tooth alive until you can make it to the dental office. Your tooth will not stay in place permanently without help from a dental professional.
What Is the Process for Me to Save a Knocked-Out Tooth?
To save your tooth, remember these tips:
Locate Your Tooth: You need to find your tooth and pick it up by the crown. Don't touch the root because you don't want to cause any additional damage to the soft tissue.
Clean Your Tooth: If you see any dirt, gently rinse it off with water. Don't use soap or any chemicals. Avoid scrubbing or drying off the tooth. It needs to be moist for the root to stay alive.
Put the Tooth in Its Socket: If you can, you should place the tooth back into the socket where it belongs. Gently push it in with your fingers and hold it in your mouth by softly biting down on it.
Keep Your Tooth Moist: If you can't put your tooth back into your mouth, you need to keep it moist another way. You could hold it in your cheek or place it in a container of milk. Don't use water because the surface cells of the root cannot tolerate this for very long.
See Your Emergency Dentist: Within an hour, you should see your emergency dentist. If you wait any longer, it will be much less likely that the tooth can be recovered.
What If I Can't Save My Tooth?
If you get to the emergency dentist and they determine that your tooth cannot be saved, this doesn't mean that you will have to go on without a tooth for the rest of your life. With modern dental technology, there are several different tooth replacement options out there. For instance, your dentist may recommend that you get a dental implant or bridge to fill in the gap depending on your needs.
Having a knocked-out tooth in Wakefield can be worrisome, but if you have a plan of action, you can ensure the future of your smile. After all, an emergency dentist is trained to deal with situations like these. You just need to make wise decisions until you get to their office.
About the Author
Dr. Rob Schumacher is an experienced health professional who loves helping patients achieve an improved sense of health and wellbeing. Being a nationally board-certified prosthodontist also allows him to express his artistic abilities in the areas of cosmetic and restorative dentistry. He studied at the University of Kentucky and the University of Michigan for his dental training. If you ever find yourself in need of an emergency dentist, Dr. Schumacher offers same-day appointments and walk-ins are welcome. Schedule an appointment on his website, but if it's an emergency, call (781) 334-3400.