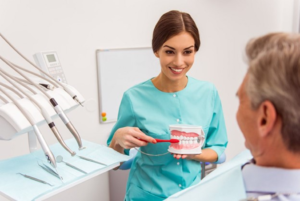 Dentures are among the most popular and tried-and-true solutions when it comes to restoring lost teeth; these lifelike, durable restorations have assisted countless generations of patients with restoring oral functionality and beauty alike. That said, if you're thinking about replacing your missing pearly whites with dentures, you might be wondering if they're a viable option if you've been without teeth for quite some time. Here's more from your dentist about why dentures might still be an effective solution for you!
The Problem with Missing Teeth
Perhaps the biggest concern with missing teeth is what's called bone resorption. This process occurs when the body believes that it no longer needs bone in a particular area (in this case, the jawbone) due to lack of stimulation. Under normal circumstances, physical stimuli such as biting and chewing are essential for your oral health; these functions encourage your jawbone to remain strong and capable of supporting teeth!
However, when you're missing teeth, those areas of the jawbone begin missing out on crucial stimulation, which ultimately leads to resorption, facial collapse, additional missing teeth, and many other undesirable issues. This means that ideally, a tooth-restoration solution shouldn't just restore teeth, but should also stave off future bone resorption!
How Dentures Function
The good news is that bone resorption doesn't rule out patients from receiving dentures, and better yet, the restorations can even slow down the process altogether. There are several different types of dentures, with numerous uses suited to address various circumstances. Partial dentures can be used to fill in just a few missing teeth, and full dentures can be outfitted to patients with entire missing arches. Traditionally, they consist of a base coupled with replacement teeth; in some cases, dental implants can be used to secure the dentures, but more often than not, dentures rely on adhesives and muscle control to remain in place.
Avoiding Jawbone Deterioration
If dentures are worn constantly and correctly, patients should not experience bone loss; in fact, wearing dentures can actually prevent it to a certain degree! However, the challenge with dentures is that when they're stimulating the gums, this stimulus is sometimes not sufficient, especially if the dentures do not fit correctly. While dentures might slow bone resorption, ultimately, they won't stop it completely as your mouth will inevitably change over time.
Fortunately, implant-retained dentures can effectively address this. These rely on dental implant posts embedded into the jaw that secure the dentures; needless to say, this translates into an incredibly stable and lasting foundation for your restoration.
The fact of the matter is, you can still wear dentures even if you've been without teeth for a while and have experienced bone loss. However, it's crucial that your restoration fits properly and suits your needs, in order to prevent any future resorption or other issues.
About the Practice
Dr. Rob Schumacher and his skilled team have proudly served patients and families in the Wakefield, MA community for several years! The practice offers a wide range of preventive, cosmetic, and restorative treatment options including tooth replacement solutions like dentures and partials. If you have any questions about the article or would like to inquire about receiving dentures to assist with your smile, don't hesitate to contact the practice online or over the phone for further assistance: (781) 334-3400.