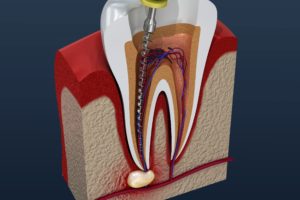 Root canal therapy is one of the most common restorative procedures with 15 million performed annually. The treatment is designed to preserve a tooth to prevent needing an extraction. Contrary to popular misconceptions, you don't need to have a toothache to require the procedure. Here are 6 reasons your dentist may recommend a root canal to save your tooth.
1. Persistent Tooth Pain
Many people believe you must have an agonizing toothache to need a root canal; however, the severity of discomfort varies. Some people may have a dull ache, while others can have a throbbing sensation. Your emergency dentist will learn more about your discomfort to help determine if a root canal is necessary.
2. Chipped or Fractured Tooth
A severe break or fracture can leave the pulp exposed to bacteria. Minor damage can often be repaired with bonding or a veneer, but major breaks may require a root canal along with a crown to avoid additional complications.
3. Abscess
An infection deep within your tooth can cause an abscess to form on the gum tissue. The pocket of pus can look like a small pimple, but it's not uncommon for an abscess to be much larger. Although antibiotics can be used to treat the infection, it will reoccur without a root canal. The procedure will remove bacteria and decay to stop the infection before it leads to tooth loss.
4. Darkening of the Tooth
If a single tooth darkens, the nerves and blood vessels within the pulp are dying. Known as necrotic pulp, a root canal is the only method to prevent the entire loss of your tooth. Your tooth can survive without the pulp, so you won't need to have it removed later.
5. Prolonged Tooth Sensitivity
Tooth sensitivity is a temporary discomfort that occurs from hot, cold, or acidic foods and drinks. It can result from various issues, like weakened enamel, decay, fractures, or infections. Although the pain may only last for a few seconds, it will progressively worsen if the underlying problem isn't resolved. Depending on the cause, your dentist may suggest a root canal to alleviate your discomfort.
6. Deep Decay
Traditionally, fillings are used to treat cavities, but if decay extends too far into a tooth, it's no longer a suitable treatment. Instead, a root canal can be needed to remove the decay to prevent an infection.
Is a Root Canal Necessary?
If your dentist recommends a root canal, don't wait to have the procedure. Every tooth is invaluable to a healthy, functional smile. Root canal therapy can preserve your beautiful smile to avoid tooth loss and expensive dental bills down the road.
About Dr. Rob Schumacher
Dr. Schumacher underwent dental training at both the University of Kentucky and the University of Michigan. He continued his education in prosthodontics to become board-certified. Dr. Schumacher has the qualifications and experience to treat the most complex oral health issues. If you need an emergency dentist, contact our office today to request an appointment.