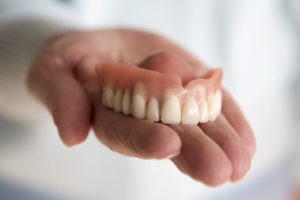 Did you know your toothbrush isn't enough to keep your dentures clean? They should also be put in a soaking solution every night. It's not just a safe place to store your pearly whites for the night. Instead, soaking dentures is important for your oral and general health. If you're not taking your teeth out before bed, here are 5 reasons you may want to change your habit. 
1. Dentures Have Pores
Your dentures might feel smooth and sleek, but they have countless pores. The tiny crevasses are the perfect hiding places for bacteria and plaque. Your toothbrush can't reach into the small pits. You need a denture solution to neutralize bacteria that can lead to odors and gum disease. Even if you don't have any natural teeth left, gum disease can still occur. The preventable infection has been linked to the risk of various health issues, like heart disease and Alzheimer's disease.
2. Bacteria Increase with Age
Your mouth contains hundreds of species of bacteria at any given time. While some are vital for a healthy smile, others can harm your overall wellness. Saliva helps control oral bacteria by cleansing your mouth. Unfortunately, with age comes certain medical conditions or medications that can cause dry mouth, creating the ideal breeding environment for bacteria to multiply. Besides using a soaking solution at night to kill bacteria, drink plenty of water to keep your mouth moist.
3. Give Your Gums a Break
Dentures restrict blood circulation, which means your gums won't get all the nutrients they need to stay healthy. Removing your dentures before calling it a night gives your gums time to rest and recuperate for the next day. If you sleep with your dentures, you're increasing your risk of pain, inflammation, sores, and infections.
4. Keep Your Mouth and Body Healthy
Your oral and general health are entwined. Certain oral bacteria can affect your overall wellness, like gum disease. The infection can enter the bloodstream, wreaking havoc on your health. Gum disease can also make it difficult to eat because of pain or inflammation. As a result, you may cut certain foods from your diet, which can lead to nutritional deficiencies. Soaking your dentures will reduce bacteria and keep your mouth and body healthy.
5. Prolong Your Dentures Lifespan
Dentures last for about 5 to 7 years before needing to be replaced. Soaking your teeth at night is a simple way to ensure your dentures last for years. You'll keep them clean and moist to get the most from your investment.
Besides caring for your dentures at home, don't forget to see your dentist regularly for a checkup. They'll keep your mouth healthy and adjust your dentures when necessary for a comfortable, snug fit that lasts.
About Dr. Rob Schumacher
Dr. Schumacher underwent dental training at the University of Kentucky and the University of Michigan. He continued his education for 3 years to become a board-certified prosthodontist. He can rebuild a beautiful, functional smile with dentures. If you're ready to replace your missing teeth, contact our office today to request your consultation.