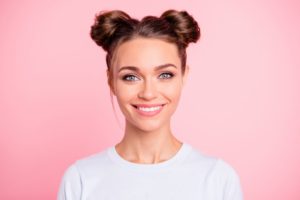 Being self-conscious about your teeth can make life hard. You may be the person who never smiles in pictures. You may be the person who covers your mouth when you laugh. You may have confidence problems. This sounds like the perfect reason to get a smile makeover from your cosmetic dentist. There are multiple options to choose to get you a perfect movie star grin. Let's look at 4 reasons for a smile makeover.
1. Get Rid of Stains with Teeth Whitening
More than half of adults in the U.S. believe that they could benefit from having a whiter smile. If your teeth have been discolored from years of smoking, drinking red wine or coffee, or just the natural process of aging, teeth whitening can absolutely help you. You can get your smile brightened in one visit to your dentist's office, or you can achieve your dream smile more gradually with at-home treatment. Simply wear your whitening gel and trays for a prescribed amount of time each day, and you'll see beautiful results in just a couple weeks!
2. Treat Decay with Tooth-Colored Fillings
In the old days, cavities had to be filled with metal, which stood out in your grin. These days, however, your cosmetic dentist offers fillings that can be color-matched to seamlessly blend in with the rest of your smile. No one will even be able to tell you had any work done!
3. Conceal Chips or Cracks with Porcelain Veneers
How do you fix multiple imperfections in your smile at once? With veneers! These thin shells of strong dental porcelain are placed over the front surfaces of your teeth to cover several different types of flaws, such as chips, cracks, gaps, and stains. Your dentist will only need to remove a small layer of enamel to make room for your veneers. Each set of veneers is custom designed to fit your unique smile.
4. Straighten Your Smile with Invisalign
Have you been wanting straighter teeth but don't want to go through the awkward hassle of wearing braces? Invisalign may be right for you. These sets of clear plastic aligner trays gradually shift your teeth into a straighter position without uncomfortable wires and brackets. In addition, this treatment is nearly unnoticeable. Unless someone sees you remove your aligners to eat, no one will be able to tell you're undergoing orthodontic treatment until they see your gorgeous new smile in as little as 12 months.
With all these options available, there's no reason to live your life being unsatisfied with your grin. Ask your dentist about which smile makeover is best for you.
About the Author
Dr. Rob Schumacher is a Board-Certified prosthodontist, meaning he specializes in combining restorative and cosmetic dentistry to help patients achieve beautiful smiles. His practice in Wakefield, MA offers multiple ways of giving you the grin you've always dreamed of. To learn more, visit Dr. Schumacher's website or call his practice at (781)-334-3400.