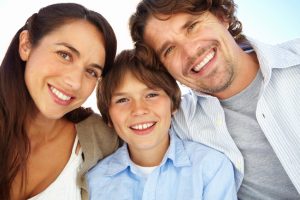 What's your family's favorite activity? If you're like us, you love loading the whole crew up for a dog day at the park. How about trying out one of our area's great dog-friendly parks this weekend? While you're at it, consider something else you and your family can enjoy together — healthy, happy smiles. It all begins with an excellent dental team! Schumacher Dental is the family dentist Lynnfield, MA trusts with its smiles. Learn more about us and the dental care we provide today!
Healthy Teeth and Gums Require Comprehensive Dental Care
You run a family, and that means you don't have a lot of time to spare. Schumacher Dental understands the need for efficient, quality dentistry. Dr. Schumacher provides dental care for the whole family — from your family's youngest smile to the, er, most experienced of teeth. Our team is highly experienced and able to care for the dental needs of patients of all ages.
In order to provide you and those you love most with the very best dental care, we are committed to equipping our office with the latest in dental technology. One visit to our state-of-the-art office and we know you will see how an all-digital, high-tech practice benefits your oral care.
…At A Price That Won't Break the Bank
Of course, your main priority is getting the quality dental care your family deserves — but it is best when that dentistry comes at a price that doesn't place a strain on your budget. At Schumacher Dental, we strive to make our care as affordable as possible. With our all-digital office, we are saving a bundle by not having to dedicate any extra resources to storage, and that means we can pass major savings onto you. We also frequently offer patient specials and are happy to work with dental insurance providers to make paying for your dental care as easy as possible.
About Dr. Schumacher: Board Certified Prosthodontist
When you choose Schumacher Dental for your family's dental care, you're benefitting from the care of a true leader in the field. Dr. Schumacher has extensive training and experience caring for smiles of all ages. He is also a Board Certified prosthodontist, which means he completed two years of advanced education in restorative dentistry after dental school. Only about 3,000 general dentists in the United States have achieved this special certification, and we are proud that Dr. Schumacher is one of the few.
Patients who visit a prosthodontist benefit from their advanced training in diagnosing and treating tooth pain. Dr. Schumacher is an expert in designing, crafting, and placing all types of dental restorations for renewed oral health.
Schedule An Appointment for Your Family Today!
When was your family's last visit to the dentist? If it's been more than six months, it's time for preventive dental care. And we've got good news: family dentists like us offer convenient scheduling to make visiting the dentist easier than ever. Please get in touch with Dr. Schumacher, your dentist in Lynnfield, MA. Contact our office to schedule an appointment today!