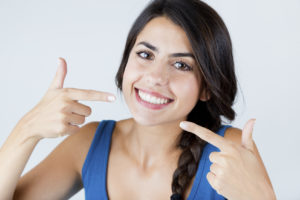 Are your teeth misaligned? Do you feel self-conscious about your smile? If so, it is time to make an investment in your smile with Invisalign in Lynnfield, MA. As the new year approaches, start the year off right with a confident smile. Invisalign is the most preferred and discreet orthodontic treatment to straighten your smile in less time than traditional braces. You will enjoy a comfortable, convenient option to finally get the straight smile you have been wanting.

Choose the Clear Choice
Invisalign is far different than traditional braces because no metal wires or brackets are used. While the method to align the teeth changes, you still benefit from high-quality results. Instead of wires and brackets, we create a series of customized aligners that are worn over your teeth.
The clear, removable aligners are worn for about 22 hours each day. You will wear each tray in the series for about two weeks. You can then switch to the next tray in the series right from your own home. On average, treatment time with Invisalign only takes 12 months. By this time next year, you will have a radiant, straight smile.
Invisalign has quickly become the preferred orthodontic treatment among teens and adults because it is virtually invisible, so no one will ever know you are wearing the aligners. However, to keep your aligners looking their best for the highest level of transparency, you will need to properly care for them. Remove your aligners when eating and drinking anything except water to prevent stains. In addition, clean your aligners before placing them back into your mouth. Do not use any abrasive products, which can cause scratches.
Caring for the aligners is easy, as well as your oral hygiene. When using traditional braces, you have to brush and floss around the wires and brackets. Not with Invisalign. Simply remove the aligners to brush and floss your teeth as you normally do. Overall, the aligners offer the most convenient treatment without restrictions. In fact, since you do not have to come into our office for adjustments, we only need to see you about every 6 weeks to monitor your treatment. This is perfect for those with busy schedules.
Get a Straight New Smile
If you are ready to invest in your smile this year, it is time to see if you are a candidate for Invisalign. While Invisalign is effective, it is not suitable for everyone, such as those with severely rotated or tipped teeth. You will need to schedule a consultation with your cosmetic dentist in Lynnfield, MA to see if Invisalign is right for you.
Dr. Schumacher will perform the consultation needed to create your customized treatment plan. Using impressions of your teeth and digital imaging, he will develop a road map to create your aligners to move your teeth. Over the next few months, you will start to notice drastic results as a straight smile takes form.
Stop living with an unconfident smile. Contact our office today to schedule your consultation for Invisalign.