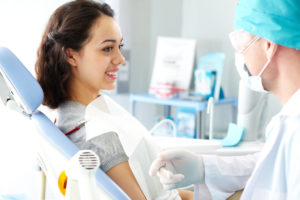 "A star does not compete with other stars around it; it simply shines." Matshona Dhliwayo stated this powerful quote in one of her written works. Our office can relate to that statement. Your dentist in Lynnfield, MA doesn't have to compete with other practices because he knows that Schumacher Dental provides the best reconstructive, cosmetic, and family dental care. Dr. Schumacher is both a skilled dentist and board-certified prosthodontist that holds his office to an impeccable standard. We make sure each patient feels comfortable with relaxing office amenities and comprehensive services all available at our patient's convenience.
We Have Services for Everyone!
Dr. Schumacher's extensive experience both in general dentistry and as a prosthodontist makes our office well-rounded. As a result, you can expect great service when you come to our Lynnfield office, regardless if you're visiting for a dental checkup and professional cleaning or if you are needed advanced restorative services. We take the time to carefully create unique, personalized treatments to ensure our patient's smiles are built to last. Some of the comprehensive services we provide include:
Preventive Dentistry—Good oral health begins with excellent oral hygiene at home and continues with the preventive services we offer like routine checkups and cleanings, dental sealants, oral cancer screenings, digital x-rays, and even pediatric dentistry for your little ones!
Restorative Dentistry—Being a board-certified prosthodontist gives your family dentist in Lynnfield, MA a true advantage! Prosthodontics is a recognized dental specialty that focuses on the restoration or replacement of damaged teeth with the goal of preserving or rebuilding a smile. We have advanced dental technology. Your dentist can provide the restorations you need, whether it be implants or a full mouth reconstruction.
Cosmetic Dentistry—Unfortunately, not everyone is blessed with a naturally flawless smile. As a matter of fact, very few people are. That doesn't mean that a beautiful smile is completely unattainable. Whether you're considering teeth whitening, porcelain veneers, or orthodontic treatments, Dr. Schumacher can help bring your confidence to the next level.
And, of course, you can call us in your time of need! We understand that dental emergencies never happen according to schedule. We promise to be there for you in your most uneasy dental times. Our flexible, extended business hours make it easy for patients to get the immediate dental care they need, even on Saturdays!
We Stay Two Steps Ahead!
When you think of the different dental services you and your family need, we have them. Not only can we provide you the treatments and procedures you deserve, but Dr. Schumacher can perform them with increased comfort and convenience because of our innovative office's technology. Some of our advanced services include:
CEREC Same Day Dental Crowns—Traditionally, your dentist would take impressions of your damaged tooth and the teeth surrounding it. Our technology eliminates the messiness that impression materials create along with the extended wait. Instead, Dr. Schumacher or one of his associates will use a digital scanner to capture detailed images of your mouth at every angle and create your restoration all within one visit!
Digital X-rays—During your dental exam at your routine dental visit, we can provide more detailed information about your oral health with reduced exposure to radiation. They produce images you can see chairside, allowing both our dentists and patients to get a good look at the state of your oral health.
Visit Your Local Prosthodontist Today!
Why should you visit a dentist that specializes in prosthodontics? It's simple—prosthodontists can give you better, more informed dental care. Dr. Schumacher had to undergo three extra years of extensive training after completing dental school to earn that title. When it comes to preventive care to avoid tooth loss—or even if you need to reconstruct your whole smile—there's not another dentist that can compare! You can confidently trust Schumacher Dental with your oral health. Schedule your appointment today to meet with Dr. Schumacher himself!