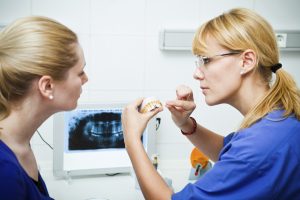 The health and function of your teeth are crucial for your health and quality of life. With each tooth working together to fulfill a specific purpose, such as chewing and speaking, damage to the teeth can cause oral functions to decrease. As a result, it may be difficult to do the simplest of tasks. Not to mention, your confidence will suffer due to a damaged smile. If your teeth have suffered from extensive damage, full mouth reconstruction may be recommended. With full mouth reconstruction, your dentist in Lynnfield, MA will restore the health, function, and appearance of your smile using a combination of restorative procedures.

Why is Full Mouth Reconstruction Needed?
There are several reasons why full mouth reconstruction may be necessary; however, it is typically recommended for patients who have significant loss of oral function and esthetics. For example, those who have multiple missing teeth, extensive tooth decay, or several damaged teeth will benefit from having their mouth reconstructed. There are a wide range of procedures that can be used to restore the health, function, and appearance of the mouth. Your prosthodontist, Dr. Schumacher, will create a detailed and comprehensive treatment plan regarding the exact procedures needed.
Why Do I Need a Prosthodontist?
Not all dentists are specially trained to perform full mouth reconstruction due to the various treatments and procedures required. You will need a prosthodontist in Lynnfield, MA. A prosthodontist, such as Dr. Schumacher, has undergone advanced training to perform certain restorative procedures to provide more informed and accurate dental care. The two to three years of additional training allows the prosthodontist to restore the mouth to its optimum appearance and functions with esthetic restoration and the replacement of teeth.
What Types of Procedures are Used?
Depending on your individual needs, there are several procedures that can be used to reconstruct your smile. You will be required to undergo a consultation with Dr. Schumacher to develop a comprehensive treatment plan that outlines the necessary procedures. Some of the procedures needed may include:
CEREC Crowns—CEREC crowns are used to restore the health and function of the teeth by placing a protective cap over a tooth. CEREC crowns are completed in just one day while giving you a natural-looking restoration.
Inlays/Onlays—Inlays and onlays are needed when old fillings must be replaced. An inlay will fit inside of the top edges of the tooth, while an onlay extends of the cusps to treat the tooth.
Dental Bridge and Crown—If you have missing teeth, a dental bridge and crown will fill the space of the missing teeth to complete your smile.
Partial/Full Dentures—Those who have tooth loss may benefit from the convenience of full or partial dentures to replace missing teeth.
Implant Supported Prosthetics—Using dental implants, dental prosthetics are securely held in place for a lifelong solution to treat tooth loss.
Your Prosthodontist for a New Smile
If your teeth are severely damaged, you can gain a new smile with full mouth reconstruction. Contact Dr. Schumacher's office today to schedule a consultation.