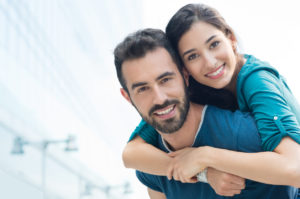 The dental crown is a common restoration that can rescue a damaged or decayed tooth anywhere in the smile. It's a thin covering that is bonded directly to the tooth. Traditionally, the process for a crown takes two visits to the dentist and a week or two spent waiting with a temporary restoration between. But with CEREC in Lynnfield, Dr. Schumacher can take care of the whole treatment in just one visit.
CEREC stands for the chairside economical restoration of esthetic ceramics — but it plainer language, it means we can create a dental crown, inlay, or onlay right beside your chair while you wait. Used to, we'd have to send a mold of your prepared tooth to a separate lab, where the restoration would be crafted by an expert. CEREC offers an excellent alternative.
Why Are Dental Crowns Necessary?
Dental crowns can solve a number of problems that commonly affect teeth, from broken enamel to severe spots of decay, teeth that have been worn down by nighttime teeth grinding, and many other issues.
You may need a dental crown if…
You have a healthy but broken tooth

Tooth decay is too significant to restore with a simple filling

You are missing a tooth and eligible for implant dentistry

You need a root canal treatment

There are significant cosmetic issues affecting your front teeth
How Does CEREC Work?
CEREC restorations are made from dental porcelain/ceramic, a material that is highly customizable to ensure the new crown matches the surrounding tooth enamel. To begin the process, we will use the color-matching guide to select the perfect shade for your new restoration. Then, Dr. Schumacher will remove any decay from the tooth and reshape the enamel to accommodate the crown, inlay, or onlay. We will take a digital scan of the prepared tooth, and promptly upload this image to the CEREC software. Here, Dr. Schumacher sketches out a digital blueprint for the restoration. It's created in our in-office milling machine in a matter of minutes.
Once your new crown, inlay, or onlay is ready, Dr. Schumacher confirms that it fits and functions like it should. He can still make any last minute adjustments as needed at this point — and then the restoration is bonded securely onto the surface of your tooth, all in the very same appointment.
Benefits of One-Visit Crowns
The advantages of CEREC are numerous, and include the following:
Ceramic restorations blend beautifully with the surrounding teeth

No need for a temporary restoration, which may break or be uncomfortable

Digital scans are far more comfortable than bite-downs captured with traditional putty

Improved accuracy of digital scans aids in treatment planning for greater overall success

Can last just as long as restorations prepared in a separate lab
Need a Crown? Talk to Us
Your dentist in Lynnfield is equipped with the technology to make one-visit dentistry possible. Don't delay the restorative treatments you need because you don't think you can make time in your schedule — we'll take care of you with the utmost care and efficiency, thanks to CEREC. Request an appointment today.