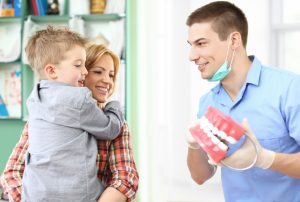 Your smile is an important aspect to how you feel about yourself and your quality of life. A smile that has damage causes your confidence to decrease while also making it difficult to eat and speak with ease. To protect your smile from damage, you need to practice proper oral hygiene while also visiting your family dentist in Lynnfield, MA twice a year. Not to mention, any dental complications that arise need to be treated promptly. However, while raising a family and working, we know it is not always easy to schedule dental appointments. We make going to the dentist easier by offering convenient office hours. In addition, we go the extra mile to ensure you receive the highest level of care and comfort when visiting Dr. Rob Schumacher.

We Raise the Bar for Dental Excellence
When choosing a family and cosmetic dentist in Lynnfield, MA, you have a lot of options. However, with so many options available, not all dentists will fit your needs. You need to choose a dentist who can accommodate your needs today and in the future. As a result, it is often best to choose a dentist who specializes in restorative dentistry to help maintain the health and function of your teeth for as long as possible.
A prosthodontist is a dentist who has undergone advanced training for dental restorations and prosthetics, which will likely be needed as you age. Dr. Schumacher is a board-certified prosthodontist who is able to provide the exact care needed through all stages of life.
Through his family-focused practice, he treats patients of all ages using innovative treatments and state-of-the-art technologies. As a pediatric dentist, he can meet the needs of the youngest of patients to develop healthy teeth into adolescence and adulthood.
For his older patients, he provides the restorative and cosmetic treatments needed to ensure the healthy, beauty, and function of smiles. Supported by a team of dental practitioners, Schumacher Dental provides the comfortable, affordable, and effective care families in the area deserve.
Your Dentist for Comprehensive Care
In addition to the services offered, you need a dentist who is able to make life just a little bit easier. Dr. Schumacher is the dentist for you. While treating your family from one convenient location, his office also offers an all-digital office. This allows all patient files to be easily and securely stored and shared, saving time, space, and the environment. Not to mention, Schumacher Dental offers the convenient office hours needed to accommodate the busy schedules of families. We offer evening appointments and weekend appointments to make dental care more accessible.
At Schumacher Dental, we believe that going to the dentist should be easy and comfortable. We strive to make dental care more convenient and personalized to provide the utmost quality of care. If you are ready to experience the difference in dentistry, it is time to contact Schumacher Dental to schedule an appointment. Experience for yourself what sets us apart from other dental practices in the area.